Notice
: Trying to access array offset on value of type bool in
/var/www/html/bog/wp-content/plugins/wp-word-count/public/class-wpwc-public.php
on line
123
We reviewed 10 best waterproof drones
10 of The Best Waterproof Drones
Unmanned aerial vehicles or UAVs that are more popularly known as drones have evolved tremendously since the time when Austria dispatched balloons loaded with bombs for barraging Venice in 1849. The earliest UAV versions that were especially designed to serve as practicing targets for military troops and armies evolved during the beginning of the 20th cent. Over the decades, drones have come a long way and the more than million units sold by the end of 2015 can be classified into categories like reconnaissance UAVs, decoy UAVs, logistical UAVs, R&D UAVs.
There is another category or classification that'll be the focus of this review and that is the drones that are extensively used by hobbyists and enthusiasts. Hobby drones are further categorized into RTF/COTS UAVs, BNF UAVs, and ARF/DIY UAVs. The first sub-classification of hobbyist UAVs-the ready to fly or commercial off-the-shelf ones- are the easiest to operate and maneuver while controlling the bind-and-fly drones requires you to have a minimal technical know how.
However, when it comes to flying the almost ready-to-fly or DIY drone, you'll need to be technically savvy and have a fair idea about assembling components to create a ready-to-fly drone. In case you're thinking of gifting a RC drone to your teenage son or grandson, go for a waterproof drone with camera.
Opting for a waterproof drone
The handheld, radio-controlled drone that you intend to buy for your son or maybe yourself to give vent to your passion about flying machines would fly within a 2km range at a maximum altitude of 600m. While controlling your drone's motion as it hovers above breathtaking landscapes, you'd want it to capture images and record footages terrestrially as well as near, over and underneath water bodies. However, water can seep inside and damage vital working parts of the drone while it floats or goes under lakes or rivulets if the UAV is not waterproof.
Majority of drones that are up for sale are not waterproof or partially water resistant. So, opting for a drone that is not completely waterproof may not be a good idea if you want your flying machine to be amphibious. Buying a drone, even the simplest one that is easy to operate and control can be an expensive affair.
Hence, in case your equipment gets damaged and goes dysfunctional, finding a replacement either in part or whole can be a harrowing as well as a costly exercise. Fortunately for you, the latest models of drones are more ruggedly designed enabling them to stand up to any type of terrain including marshy or waterlogged areas and water bodies.
What to look for in a waterproof drone?
The state-of-the-art drones that are flown by UAV aficionados and hobbyists mainly for amusement are extremely robust and superior both technologically and structurally. In other words, these advanced drones are assembled using the best quality of components and reinforced with sophisticated technological features letting them complete a reconnaissance effectively by clicking snaps of a rugged terrain or underwater setting. So, flying waterproof drones UK can be intensely amusing, since you can play with these toys and even use a powerful water gun to spread water around without worrying the drone will get any damage.
However there are certain aspects that you'd be required to factor in before you buy a waterproof drone because the sheer variety (of hobbyists' drones, each with its distinct set of features) can puzzle you. Make a list of the features that you'd want in your drone and thereafter review 5-6 products based on this listing.
No matter whatever model of waterproof drone you choose, it must be equipped with the following fundamental features rendering it competent to fly, immerse and emerge out of water unhindered while simultaneously capturing shots and recording videos:-
Can the drone be fully immersed inside water-Do you want your drone to go deep inside the water to capture shots of marine life, aquatic organisms and fishes or simply land or drift on the surface? In case you want to fulfill your first wish, then you should be scouting for a fully waterproof drone that can plunge up to a specific depth. Such type of UAV should've components that can resist corrosion from salty water or withstand nibbling from fishes or other underwater creatures.
On the other hand, there are water-resistant drones (mind you not waterproof) that remain unscathed if you make them land on the water surface but may undergo damage if you submerge them.
The flight time or duration-While some waterproof drones are designed to remain airborne for a long period of time offering you greater leeway in controlling the unmanned vehicle, others can be flown for a short interval limiting your ability to maneuver it effectively.
Ability to surface unhindered from underneath-A drone that can be easily made to go underwater naturally will be sophisticated enough to reemerge with equal ease. For drones which cannot be made to resurface via the handheld remote, you'll have to do the same manually before it can start flying again. Simply having a waterproof drone doesn't imply that it'll be automatically able to take off and land on water.
A drone that is able to land or take-off on its own has sturdy propellers which can produce the right degree of thrust required for liftoff or even float on water. Most of the waterproof drones are designed innovatively and painstakingly that gives them the power to operate by countering the water's surface tension.
It is structurally robust to handle weather inclemency-Would you be flying your drone when it is raining heavily or during a thunderstorm? A waterproof drone if it has to be flown in inclement weather conditions must be powered by a high-powered, weatherproof battery. The propellers, fuselage, and the internal components should be structurally tough so that these parts can tolerate the detrimental effects of rainwater as well as should be capable of withstanding strong gusts of winds.
Selecting a waterproof drone that makes flying and maneuvering fun
Just don't limit your search to finding a drone that is waterproof but also look for one that you'll be able to fly easily. Don't simply assume that a watertight UAV will be simple to fly as well. In case you've never handled a hobbyist drone before, you'll need to pick up the ropes of flying one that is learn to manipulate the FPV/RC flight controller for perfect and safe takeoffs or landings. If you're starting out with flying drones, then always choose one that has:-
Controller equipped with just two joysticks-one for adjusting velocity and another for controlling flight direction
Headless form factor that'll let you make the drone takeoff from any surface and position
Received positive reviews and feedbacks, especially on the 'ease of use' factor
Alternatively, if you've garnered some experience with respect to handling drones, then you could select one with more complex features like auto-pilot, auto-return or real-time video transmission.
Where to look for waterproof drones?
When you start looking for the waterproof drone that'd best suit your needs and preferences, then be prepared to get puzzled. While surfing on the net or visiting brick-and-mortar outlets, you'll be surprised to discover that a specific model is priced differently on different websites. The variance in cost (which can be considerable) for the same brand across the web can flummox you so much that you may have a hard time deciding where to source the drone from.
You'll be playing it safe if you log into the Amazon site which is evidently the world's most popular and heavily used e-commerce portal for placing online orders for a countless range of goods and services. Amazon would be your best bet when you're scouting for a waterproof drone with an advanced camera because you'll be able to pick and choose from a range of quality products that are competitively priced as well. You can check out the features of each and every product as well as go through the customer reviews at the end of the page that'll go a long way in helping you out with zeroing in on a drone that meets your specific requirements.
Reviewing the Best Waterproof Drones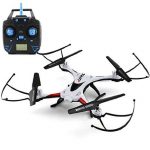 effectively immersed in water as well as made to do aerial surveys even when it's pouring. The drone has a luminous green color that lets you see it fairly clearly in broad daylight as well as during nighttime.
At the same time, it's remarkably lightweight weighing just about 64g allowing it to cruise during flights. Being headless, it can be positioned to take off from different surfaces and also made to land conveniently thus offering you good leeway with respect to flight orientation. Auto-return feature allows you to bring the JJRC H31 home safely.
360˚spin functionality together with the 6-axis gyroscope control offers you great freedom to maneuver the motion of the drone. The 4-CH RC controller has a total of 10 function knobs including but not limited to speed adjustment, flipping, left and right controls, heading, auto-return, video, and photograph. Constructed from ABS plastic, this drone can withstand wear and tear as well as inclement weather. Though it can remain in flight for nearly 8 minutes at a stretch it cannot soar beyond an elevation of 80 meters so you control range is limited. Also, you'll need to install a camera if you want the drone to capture shots.

FEATURES
360 degree spin
Captures images and videos in low light conditions
PROS
Being waterproof, it can drift on water as well as go underwater
Uses a 2.4Ghz flight controller that has 10 knobs for controlling a range of functions
Headless form factor furnishes sufficient leeway with respect to flight orientation
Bright green color makes it easy to spot the drone from any viewing angle
LED lights illuminates this best waterproof drone making it clearly visible in darkness or at night
6-axis flight control and 360˚ spin features offer good flexibility with regards to maneuverability
Single-key return makes the drone come back to the pilot
Active flight time of 8 minutes means the drone stays afloat for quite some time
CONS
Is not equipped with a digital camera (but is compatible for installing one)
Very short control range-80-meters-that is less than the control ranges of other comparable drones
The drone is eminently suitable for beginners but not for the more experienced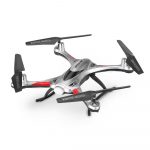 tes with a single charge of the battery. The 3.7V 400mAh battery is protected against overcharging thereby ensuring an extended functional life.
This drone by GoolRC is headless that frees you from the hassle of having to adjust the quadcopter's position before it is ready to soar. Single-key return knob lets you pilot back the drone to the position from where it took off. The drone is shipped to you with several add-ons like additional blades, battery charger, screwdriver, and batteries which enhance your drone flying experience.

FEATURES
8 minutes airtime on a single charge
360 degree crystal clear view
PROS
The fuselage and other vital components have been fashioned out of toughened ABS making the drone highly resistant to wear & tear, and abrasions
Robust battery with overcharging protection
Single-key return for bringing drone back to base
Flight controller with vital key functions like 360˚ spin, backward/forward, left/right, sideways flight, and hover control
Headless design of the quadcopter provides sufficient freedom as far as flight orientation is concerned
Comes with an average flight time of approximately 8 minutes
Battery charges fully in just about an hour
Remarkably lightweight which makes it convenient for you to control the movements and speed
CONS
Control range of the drone is limited to just 80 meters that may not enable experienced drone hobbyists to make the most of its features
Installing or assembling some of the parts might be cumbersome for some enthusiasts especially beginners
Doesn't come with an inbuilt camera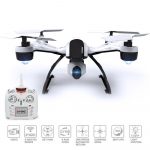 advanced 720p HD camcorder which is capable of capturing realistic images and lifelike footages while in flight. Also, the lightweight camera is detachable and can be upgraded as and when required.
You can position the drone stably in midair via the air pressure sensor lock function knob when you need to take clear and fuzz-free photographs or record crystal clear videos. This drone with camera for sale has been designed and manufactured using the latest fabrication technology making it highly resistant to gales and windstorms. 6-axis gyroscope and 360˚flip control features contribute towards offering you substantial flight control.
Though the drone is reinforced with an array of exceptional features, it can be controlled easily with the RC controller which makes it suitable for greenhorns. For piloting the drone back to home base, you just need to press the return key-yes it's that simple! The drone is supplied to you with a heavy-duty 3.7V lithium polymer battery having a 600mAh rating and can be charged quickly using the USB charger that is also included in the package.
FEATURES
720p HD camcorder
360 degree flip control offers great flight control
PROS
Equipped with a sophisticated 720p HD 2MP video camera that freezes stable shots and records lucid videos even when the drone is hovering unstably
Can be easily operated both by novices and seasoned hobbyists with many years of drone flying experience
The 2.4Ghz remote control offers you a good range of control
Can be flown outdoors as well as indoors
Height of the quadcopter can be stabilized according to your convenience courtesy the air pressure sensor control-a feature that comes handy when you need to drop lunch boxes or take aerial photographs
Features for monitoring flight orientation and rolling of the drone
Maximum flight time of about 10 minutes
CONS
The drone comes with a very short flying range
Not capable of carrying food packets or explosive weighing over half pound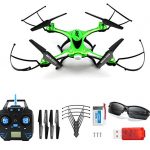 can make the UAV fly over and land on water bodies without having to worry about water seeping into the internal components. The remote control is embedded with numerous control functions providing you the flexibility to steer the drone forward/backward, left or light, up & down, and also make it fly sideways.
There is a control button for making the drone roll and spin in a full 360˚ sweep. The headless or head-free form factor of the flying machine renders it suitable for taking off from any position and from almost anywhere. The headless mechanism provides you the convenience of piloting the drone in any direction you'd want to.
There's also a single-key course reversal control which lets you maneuver the pilotless vehicle to land at the place or position from where it started. The headless system frees you from the requirement of having to reset the takeoff position every time before flying. This waterproofing quadcopter with a median flying time ranging from 8-10 minutes is supremely affordable as it costs less than $50.00.

FEATURES
Flight Time of about 10 minutes
360˚ rolling action with hardwearing ABS fuselage
PROS
The drone is extraordinarily resistant to wear & tear, crashes, and falloffs as it's fuselage has been shaped from superior quality of ABS material
Single-key course reversal function for bringing the drone back to base
6-axis gyroscope control furnishes you excellent latitude with respect to flight orientation
The fluorescent green color of the flying machine makes it clearly visible even in broad daylight
Green LED lights built into the airframe allows you to see the drone in darkness
Separate key for 360˚ spinning and rolling of the UAV
Being waterproof it is protected against damage to internal components when it lands on water or goes underwater
CONS
The maximum control range of the remote is 70-80 meters which is below average eve for a hobby drone
Doesn't come outfitted with a video camera
Cannot be made to land in brackish water as the salt concentration might render the motor dysfunctional
No controls on the RC transmitter to monitor a camera
The drone is extremely lightweight and hence may not be able to lug a little hefty camera
The weighing just about 56g which enables it to fly without any inhibitions and as naturally as a bird. Fortunately for you, there's no need to apply for a FAA registration for ordering the drone.
This drone with camera for sale is thoroughly waterproof and therefore it can be piloted to drift on water or even immersed without your having to fret about water oozing inside and damaging the parts. However, the drone's USP has to be its 2MP HD camera that can capture images and record videos with the same effectiveness and perfection as you do at ground level. The camera comes with a SD-card and there's a slot for inserting the card.
You get 2X 3.7V waterproof lithium polymer batteries that get fully charged within 45 minutes. One full charge keeps the flying machine airborne for a maximum of 8-10 minutes. Other necessary accessories are also supplied with the package including 8 blades, 4 blade guards, 2 landing gears, and 1 battery charger. Other standard includes LED lights for night flying, single-key return, 6-axis gyroscope control, and headless mode.
FEATURES
Lightweight and merely 56g
45 minutes of air flight time
PROS
A superlight drone that enables the same to be maneuvered easily by the hobbyist
FAA registration compliance is not mandatory for purchasing the drone
LED lights allows you to keep an eye while flying the drone at nighttime
Can be flown on aquatic surfaces and during rains as it is waterproof
2 powerful batteries each of 400mAh capacity keeps the drone afloat for 8-10 minutes
2MP HD camera that can take quality pictures and shoot high-quality videos
Single-key reversal function brings the drone back to base
Full flight orientation using the 2.4Ghz remote control transmitter
CONS
The blade guards takes quite an effort to set up and may not stay in place during flight
Construction is not as robust as claimed and the battery door is somewhat fragile
The waterproofing functionality is compromised in the event of battery door or blade protectors coming off
The home return key may not always function properly making the drone land farther from the starting point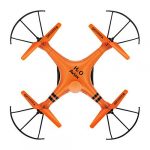 an plunge to a depth of 20-70cms under water and you'll be surprised that the motor will still be functioning smoothly. As long as the Hosim Aviax waterproof drone remains underwater, it'll be in takeoff mode automatically letting the equipment emerge out and fly away. It also comes with an embedded gyroscope that keeps it stable as long as it is airborne as well as enables it to withstand wind resistance.
An USB charger cable facilitates in charging the batteries via your personal mainframe or PC. A couple of heavy-duty 650mAh lithium polymer batteries can be fully charged in a short time and keep the motor running continuously for 10 minutes at the most. The LCD RC transmitter has 13 separate control functions including light control, video/photo mode, and throttle stick left/right turn that lets you monitor this best waterproof drone with ease.
FEATURES
13 separate control functions
2.4GHz 6-Axis Gyroscope RC Quadcopter
10 minutes airtime
PROS
One of the best waterproof drones which remains functional even at a depth of 70cm underwater
Control keys for controlling the direction of the drone making it go forward/backward, left or right, up and down as well as enabling 360˚ spins
The airframe has been meticulously designed allowing you to install a HD camera for aerial photography
Crystal LCD HD transmitter displays sensitive flight data including battery power, camera function mode etc clearly
Battery can be charged from computer terminal
Versatile flight controller with 13 distinct control functions
Luminous orange hue makes the drone distinctly visible in daylight
CONS
The rivets for securing the blade protectors are tiny and are liable to come off during flight which can dislodge the guards during a crash or falloff
The control range of the remote is limited to a maximum height of 80m
May not always be able to emerge out and take off when it goes deep inside water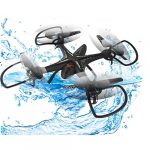 The 2.4 GHz 4-CH Remote Control Quadcopter UFO UAV Drone 3D Flip with a jet black finish is one of the most resourceful waterproof drones on sale and is also remarkably affordable. Since it is completely watertight, you can guide the Maxbo quadcopter over a range of water bodies including streams, rivulets, lakes, and terns and even submerge the UAV. The drone will come out unscathed after you've immersed it deep inside.
The circuitry board of the drone as well as the batteries is waterproof as well that play a key role in keeping the equipment functional underwater. Using the handheld remote console, you can make the quadcopter fly forwards or backwards, sideward, left or right and up or down as well as enable to perform 3-dimensional rolls. The drone has a built-in 6-axis gyroscope system which comes in handy when you need to stabilize the quadcopter in any flight mode.
There are 6 bright LED lights that illuminate the drone while it performs aerobatics in the air. Two 600mAh lithium polymer batteries that can be charged in 1 hour 20 minutes keep the drone in the air for approximately 8-10 minutes.
FEATURES
3 Distinct Flying Modes
Built-in 6-axis gyroscope system
PROS
6-axis gyroscope mechanism allows you full leverage with respect to flight orientation
LED lights on all branches of the airframe permitting nighttime visibility
The remote control console can be programmed to make the drone perform aerobatic tricks
Waterproof frame keeps the drone functional during rains or when it goes underwater
Offers up to 3 distinct flight modes
High-powered batteries can be charged and recharged quickly
Drone stays airborne for a maximum time of 10-12 minutes
CONS
The screws for fastening the blade protectors are rather tiny making it a problem to tighten these
Although the main circuitry is shielded the chamber housing the batteries are not waterproof
No controls on the remote for monitoring a camera for aerial photography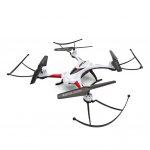 As flexibility to the product.
Make the waterproofing quadcopter float effortlessly over a lake or a pond as well submerge it. Press on the single-key return knob and the drone will safely come back to the place from where it started its journey. Hardwearing batteries transfer sufficient power to the drone keeping it afloat in the air for 8 minutes at a stretch.
FEATURES
360 degree rolling at high speeds
Airtime of 10 minutes
PROS
Heavy-duty construction-Fuselage of the drone, the blades, and other vital components are of quality ABS material
Headless mode operation means you can fly the UAV from any position or place relieving you from the need to adjust it every time before take off
Flight movements can be monitored from the RC transmitter giving you a kick out of flying the drone
Extremely lightweight which lets you fly the quadcopter in 3 separate modes
Waterproof construction makes it suitable to be flown when it's raining
Offers a maximum flight time of 8-10 minutes
CONS
The batteries do not last as long as have been claimed by the manufacturer
The flying range of the drone is limited to a distance of 80m above sea level which may dampen the spirits of many aficionados and enthusiasts
The return key may not always function smoothly making the quadcopter land some distance away from the spot where it took off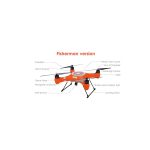 If you're willing to splurge a little more, then the Mariner II Waterproof Drone with Autonomous Features would more than fit the bill enabling you to satiate your UAV flying ardor. This is unquestionably one of the best waterproof drones that your money can buy and is surely in a class by itself. This drone from SplashDrone is thoroughly watertight enabling you to land this UAV on land as well as conduct underwater inspection, thanks to the camera gimbal that is also waterproof.
The tremendously advanced remote control allows you to control this drone up to an aerial distance of approximately a mile and at the same keep an eye on its performance through the LED 7" color monitor. You can mount a GoPro camera for capturing images and streaming live videos for any action on water or land. The framework is made of superior quality of ABS plastic and the propellers have been chiseled out of carbon fiber making the Mariner II an extremely hardy drone.
The package is supplied to you with separate cases for storing the drone and the GoPro gimbal. The 8-Ch remote control lets you maneuver the drone in your own way. This is one of the best waterproof drones for fishing as it can carry lunch packets, medicines and has a payload release mechanism making the UAV ideal for using in relief and research operations.
FEATURES
LED 7" color Monitor
8-Channel Remote Control
PROS
Dual usage mechanism-allows quick conversion from a waterproof flying mode to a gimbal mode
Ideal for aerial photography and video streaming from high altitudes
Payload release mechanism
8-channel remote control for auto return, auto-flying and other flight orientation features
Returns safely when battery charge is low
Flight time of 15 minutes (with payload) and 20 minutes (without payload) respectively
Range control of 1 mile
Can fly steadily at wind speeds of up to 25mph
CONS
The gimbal camera is not entirely waterproof as claimed
It has a tendency to spin out of control even after you've calibrated and set the GPS effectively
Controlling the remote and keeping an eye on the VDU attached to it at the same time may be difficult
The VDU is not clearly visible during the day
Swiping the payload unit with the gimbal takes a lot of effort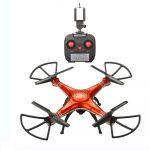 The Waterproof SHENGKAI D99A RC Drone 4-CH 6-Axis Quadcopter from ABCsell is an affordable drone that impeccably combines drop-dead looks with versatility. Costing under $50, you get much more than your money's worth when you opt for it. The D99A RC Drone has been meticulously and painstakingly designed to cruise over water bodies at a height of 100m for a maximum of 12 minutes on a single charge that takes less than an hour. It has a built-in HD camera making it perfect for capturing images and live footages of jet skiing, yachting, and snorkeling competitions.
This is one of the best waterproof drones whose fuselage has been chiseled out of hardwearing plastic material that renders it extremely durable. Also, it is equipped with some topnotch features like FPV functionality (first person view) that exploits Wi-Fi real-time streaming for transmitting images to the screen of your smartphone attached to the remote control. 2.4Ghz, 4-Channel controller with 6-axis gyroscope control lets you have a firm control over the drone's flights.
One of the handiest waterproof drones with camera it has LED lights that illuminates the drone while it hovers to complete aerial surveys at night. Being headless, you don't need to set the drone's position before takeoff. You can make it fly back to base with the single-key return function
FEATURES
LED 7" color Monitor
8-Channel Remote Control
PROS
Construction from hardy materials offers the drone an extraordinary durability and also makes it watertight
A 2.4GHz, 4-Ch remote control with 6-axis gyroscope provides you the leverage to fly the drone as you wish
Advanced key controls like single-key return, 360˚ rotation, altitude hold, and headless mode take off
Built-in HD camera that takes advantage of Wi-Fi technology for relaying live pictures, images, and videos to your smartphone
Fully waterproof
Operating range of 100m
LED lights for flying at night
Bright orange color makes it visible clearly at daytime
CONS
Flying time is limited
Maximum operating range is limited as well
The return-key control may not function properly making the drone land some distance away from the spot from where it took off initially