Notice
: Trying to access array offset on value of type bool in
/var/www/html/bog/wp-content/plugins/wp-word-count/public/class-wpwc-public.php
on line
123
What is a T5 Grow Light?
Selecting the appropriate grow lights for your cannabis' grow room is extremely crucial as perfect illumination at each stage of growth is indispensable for healthy growth of leaves and buds that produce the chief psychoactive chemical. But, more often than not, the task of choosing the perfect or ideal grow lights can get really cumbersome as cultivators are spoilt for choice since there are almost innumerable models to choose from. On top of that, the indoor growers or gardeners have to consider other aspects as well before taking the plunge.
Though LED lights are by far the most widely used grow lights in a majority of indoor grow spaces starting from a small grow tent to a large orangery, T5 fluorescent lights continue to offer good competition. LED lights are undoubtedly more energy efficient and durable than traditional lighting systems like CFLs, HIDs, and HPS lights but many growers are intimidated by the expensiveness of LEDs or HIDs. T5 lights and lamps are highly popular with a particular section of growers and cultivators because they are energy efficient, promote good yields, and most importantly are pocket friendly.
The tender marihuana saplings thrive remarkably effectively under T5 lights as they do under HID or HPS lamps but consumes much less electricity, relatively speaking. T5 is a yardstick or a specification of the fluorescent bulbs' size. You will not find fluorescent bulbs in the market whose diameters are less than T5's.
The "T" stands for 'tubular' and the numeric "5" signifies the diameter of the tube which is 5/8th of an inch. T12 or T8 grow lights have a greater diameter compared to T5s' and hence stouter as well as longer.
Why Should You Go for T5 Grow Lights?
Many indoor growers or cultivators choose T5s' over LEDs as grow lights for a host of practical reasons. For a start, T5 lights are relatively affordable, costing much less than LEDs or HIDs. Secondly, they are quite energy efficient, consuming a small amount of electrical energy as long as they remain lighted up. This is significant for hydroponic and indoor harvesting of marihuana as the lights have to be kept switched on for nothing less than 12-16 hours every day.
Many LED grow lights have built-in fans and heat sinks for keeping the lights cool which in effect increase the overall electrical energy consumption, thereby compelling you to pay a higher utility bill. Sometimes, you are required to install inline fans separately for dispelling the built up heat and promoting proper ventilation which again jacks up the electricity invoice. T5 lighting systems generate heat that does not usually increase the ambient temperature beyond 95°F which relieves you from the need to provide extra ventilation in most circumstances.
The Drawbacks
There are some distinct drawbacks to using T5 lights as grow lights in your indoor cannabis nursery. The spectrum of light emitted by the tubes will just not be sufficient for supporting growth at each and every stage, especially during the budding and blooming stages. For these final two stages, you'll have to buy extra lights that give off the red spectrum light.
Since the emitted light from T5 bulbs have a 360° reach, you'll have to go in for reflectors separately so that the beams are focused more on the plant canopies. At the same time, you'll need to install the lights closer to the plants for minimizing dissipation which in turn can transfer heat to the vegetation, ultimately necessitating you to opt for ventilation. Though T5s' keep providing light with almost the same efficiency (read intensity) all throughout, their lifespan is shorter in comparison to LEDs, lasting approximately 20,000 hours.
T5 lights: Optimum Applications
T5 tube lights and lamps are the way to go if you want your whole bunch of cannabis seedlings to germinate quickly and smoothly reach the vegetative stage without investing a fortune. Furthermore, since they do not attain a temperature that might scald the plants, they are ideal for using in smaller grow rooms or grow tents.
T5 lights: Optimum Applications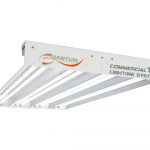 If you're searching for ideal grow light fixtures for your cannabis grow room or grow space, then you do not need to look beyond the Quantum 4' T5 8-Tube Fixture. These heavy duty ballasts are perfect for housing and powering the 4' long tubes with a rating of 54w. The shallow profile of the ballast prevents heat buildup and also positions the tube flawlessly.
The USP of the fixture has to be the glass coated reflectors developed in Germany. The widened angles of the reflectors help in directing the light rays from the back of the tube to the plant canopy as well as go much deeper. Not only is the light distributed over a larger area but the same is remarkably intense as well.
Surely, the most palpable and significant benefit of using the Quantum T5 lights is that the tubes give off light which has more lumens or intensity per watt in comparison with other similar T5 models, at least 28% more. The fixture can be conveniently folded which eventually helps in transportation and storage. The only drawback (which is not technical) is that you have to buy the grow light tubes and rope hanger separately as these two components are not provided with the ballast.
The Jump Start 4' T5 Grow Light System that comes with a stand, tube, and fixture or ballast is a cost effective way of encouraging the growth of your marijuana plants at all stages. With a lumens or luminous intensity rating which is 15-20% higher than standard fluorescent tubes, the germination of the cannabis saplings is accelerated as well as the budding and blooming of the flowers are promoted. The contraption has been designed in an innovative manner that allows you to place the ballast closer to the canopy without having to worry about singeing the plants.
A simple toggling of the clamp is all you have to do for adjusting the height of the tube as per convenience. Super efficient reflective glass of the fluorescent tube ensures that the maximum amount of light is reflected over a greater surface area. The appropriate length of the tube implies minimal environmental footprint and a longer shelf life.
Assembling the unit is a child's play-you just have to slide in the pieces into one another. This Jump Start T5 light is supremely suitable for harvesting cannabis, flowering bulbs, veggies, orchids, African violets, cuttings, seedlings, and saplings. The lamp is CE certified with an interior broadness of 48 inches and is companionable with FLT, FLV, and FLP tubes of Hydrofarm.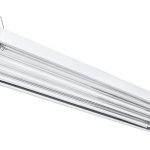 Another high quality and performance-oriented T5 grow light you can buy is the iPower Fluorescent 4-Feet Fixture with 4 Tubes. The ballast has been crafted out of premium grade of steel and is powder coated to make the same resistant to rust. The entire system can be installed in three separate modes-overhead, vertically and horizontally.
The package is delivered to you with a 10' long power cord, thereby enabling you to connect the light conveniently to a plug point situated some distance apart. There are two switches which offer you the leeway to monitor the operation through two distinct lighting banks or hubs. The lumen output rating is high implying that the light emitted is of high intensity and the quality reflecting glass makes sure that more than 99% of the light is reflected.
Quality aluminum has been used for building the inside of the ballast that goes a long way in not only reflecting maximum amount of light but also keeps the fixture lightweight. This iPower T5 fluorescent 4-feet fixture with 4 tubes, is ideal for installing in a small or midsize grow tent or indoor garden.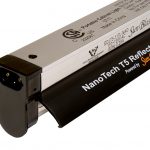 The Sunblaster 904296 NanoTech T5 High Output Fixture Reflector Combo includes every lighting component you need for your grow garden. The combo pack comes with ballast for housing the tube, 6400k tube light, jumper plug suitable for both flat surface and horizontal installation, and a power cord. The NanoTech reflector exploits Nanotechnology to the hilt for reflecting back as much light as possible.
As a matter of fact, the powerful and advanced reflector is capable of stepping up lumens to the extent of 300%. And the 18 inches long ballast has been intelligently and exclusively designed to take in the NanoDome. Up to 8 Sunblaster T5 High Output ballasts can be connected in a series, irrespective of the length with a single power cord. These T5 light tubes are best used in a grow room, grow box, small indoor garden, kitchen, bathroom and other small spaces.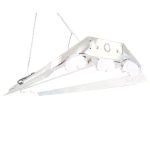 The T5 High Output Grow Light from DuroLux is surely one of the best of T5 grow lights that you can bank upon when it comes to reaping a rich yield of cannabis flowers in your grow room. The package includes a set of 6 4ft T5 tubes, installation ballast, and an 8-ft long power cord. Every tube gives off high intensity light of 30,000 lumens and has a 6500 Kelvin rating which implies that the emitted light almost resembles natural light.
Therefore these T5 lamps are also referred to as daylight bulbs. The light rays reflected by these DuroLux fluorescent tubes have a somewhat blue tint. This T5 HO grow light is not only effective for stimulating the sprouting of marijuana seeds but also come handy for encouraging growth during the vegetative and flowering stages. The fixture has built-in German hammertone reflectors that mirror 95% of the generated light which is 30% more than other similar lighting modules. You can link several such lamps in a series (daisy chaining) by using hooks and mounting chains. Ballasts come outfitted with Italian AAG Stucchi lampholder that protects against tubes catching fire due to loose connection. The tubes are compatible for working with timers.
Accessories and Lamps for T5 Lights
| | | |
| --- | --- | --- |
| | T5 Lamp Holder Lamp Socket Tube Accessory AC 100-250V for Aging Test 20pcs | See Price |
| | Hyperikon T5/T8 LED Light Tube, 3.75 FT (45.25 Inches), 22W (50W equivalent), 5000K (Crystal White Glow), 120-277V, Dual-End Powered, Ballast Bypass Required, Clear, DLC and UL - (Pack of 4) | See Price |
| | FL54/T5/850/HO - 54W T5 Bulbs - High Output 5000K 800 Series - Plusrite 4128 (25 Pack) | See Price |
| | Hydrofarm TM01015D Dual Outlet Grounded Timer | See Price |
| | Hydro Crunch 1/8" Adjustable Ratchet Hangers for Hydroponics, Reflectors, & Grow Light Fixtures (Set of 2 - Holds 150 lbs) | See Price |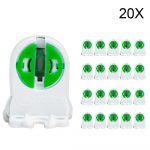 The T5 Lamp Holder Lamp Socket Tube Accessory has been specially designed for fitting into T5 lights and fixtures. The lamp holders can be slid on or snapped into place on either ends or sides of the T5 tubes before installing the latter inside the ballast. For fitting the lamp holder onto the fluorescent tube, the lock screw built into the former, simply needs to be fixed to the bottom of the latter.
These lamp holders constructed from copper and plastic can be used with T5 tubes and LED lamps. Every set contains a total of 20 pieces.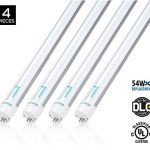 The Hyperikon T5/T8 LED Light Tube combines the energy efficiency of T5 lamps with the luminosity of T8 light tubes. There are 4 light tubes, each having a rating of 22W and capable of replacing 54w fluorescent or LED lamps thereby allowing you to save hugely on your monthly utility bills. The tubes have a lifespan of 45,000 hours, more than enough time for your cannabis saplings to mature fully.
Using these light tubes are completely safe for the indoor gardener or hydroponic cultivator as there is no UV or IR radiation and can also be installed in environments where the temperature ranges from -25°F-125°F. These are 5000k lamps and emit a light having a crystal white tint or glow.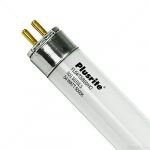 The FL54/T5/850/HO light tubes from Plusrite have a 5000Kelvin rating implying that the glow from these lamps has a whitish tinge that accelerates cannabis plant growth from the sapling to the flowering stage. The active lifecycle of the lamps is 20, 000 hours and at the same time, these tubes are remarkably energy efficient.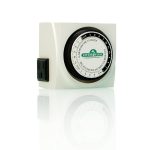 If you wish to make the most of the red and blue T5 or LED grow lights installed in your cannabis grow room, then go for the Hydrofarm TM01015D Dual Outlet Grounded Timer. This is one of the most effective timers which will regulate both the red and blue lights in consistent 15 minute on/off cycles all through the day and night. Red and blue spectrum lights are most suited for healthy and balanced growth of marijuana plants in hydroponic, grow room or grow tent settings.
Hydrofarm TM01015D Dual Outlet Grounded Timer comes with a 1-year warranty.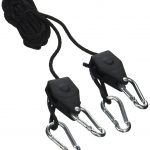 Each and every pair of Hydro Crunch 1/8" Adjustable Ratchet Hangers are capable of holding grow light reflector ballasts and fixtures weighing up to a maximum of 150 lbs. You can conveniently adjust the height of your grow light fixtures by extending or contracting the rope ratchet hangers that are firmly tethered to sturdy karabiners. Both the nylon-braided polypropylene are 1.8" thick and are 7 feet 7 inches long giving you full leeway to adjust the lowering or raising of the fixture over the canopy of cannabis plants.
T5 Grow Lights: FAQs
Q1. What do the ratings 6500K, 6400K, 3000K, 2700K or 2900K stand for and what is their significance in hydroponic or indoor farming?
A1. Cannabis plants largely need red and blue spectrum lights for growing healthily all throughout, starting from germination right up to the stage when they start bearing flowers that contain THC, the chief psychoactive constituent. In this context, the different types of grow lights like LED lights, compact fluorescent lamps, HIDs, and HPSs emit light of various spectrums having distinct temperatures.
The ratings 6500K, 6400K, 3000K or 2700K indicate the specific light spectrums that a lighting fixture emits. The numerical figure is a yardstick for the temperature whereas the letter K stands for Kelvin. To put it in a nutshell 6400K or 6500K lamps emit light that simulates daylight or sunlight, and has a bluish tinge (invisible to the naked eye) indicating that it gives off light of blue wavelength.
Blue light is essential during the seedling and vegetative stages. 3000Kelvin lamps are imperative for stimulating a higher yield when the marijuana plants reach the flowering stage.
Q2. Should I go for LED grow lights, T5 lamps or HIDs?
A2. Each and every type of grow light has its own advantages and drawbacks. On an overall basis, LEDs are the most effective as grow lights are the most energy efficient and also last for a long period of time. However, LEDs are more costly than other kinds of grow lights. T5 lamps are comparatively much cheaper, energy efficient, and some brands have an extended lifespan. HIDs and HPSs are expensive, not quite energy efficient, and they tend to get overheated in due course.
Making the Most Out of T5 Lights
Take the following guidelines into consideration before you proceed to purchase T5 lights and fixtures:-
How do you wish to install or suspend the lights?
What is the maximum length of the power cable supplied with the fixtures?
What is the weight of the fixtures?
What is the electricity rate per kilowatt-hour where your grow room is situated?
What should be Kelvin ratings of the T5s that you will go for?
How often will you need replacements?