Notice
: Trying to access array offset on value of type bool in
/var/www/html/bog/wp-content/plugins/wp-word-count/public/class-wpwc-public.php
on line
123
There used to be a time when cinematographers or film directors had to employ a motley crew to assist them while shooting in different locations. At the same time, they had to improvise makeshift tracks for sliding the action camera up and down for capturing steady shots in different scenarios or backgrounds. However with rapid strides being made in the technical areas associated with cinematography and moviemaking in the past few decades, it has now become more convenient to make a movie or a video.
Nowadays, it is usual for a filmmaker or videographer to use a camera slider for steadying the movie camera movements so that it can take steady and perfect shots. A camera slider is the perfect accessory to use for keeping the equipment rock steady while it is made to go back and forth in order to capture exactly those shots which the cinematographer desires.
The moviemaker or videographer usually checks out the effectiveness of camera sliders by checking out some essential features, especially its gliding action. However, if you're a first time buyer, you'll need to do some research and homework before you can make up your mind.
 Selecting The Best Camera Sliders
 The sole objective behind purchasing a camera slider is to stabilize your action camera while you shift from one location to another for recording footage or making an indie film. Since you've to be on the move constantly, you'd also want to opt for slider equipment that is portable or a camera slider compact. There are other aspects that you'd have to take into consideration while comparing different models of camera sliders like construction, weight, efficiency of sliding action, and of course your budget.
Last but not the least, the kind of cinematography equipment or camera you're using will also considerably influence your choice as some camera sliders are ideally suited for specific models.
 The different attributes of a camera slider
Any standard camera slider comes equipped with the following components:-
Slider-There are two distinct types to choose from-Drylin and roller-bear. Drylin slider comes with juxtaposed rails that minimize friction during movement and are less expensive than a camera slider having rollers for mounting the camera on rails for smooth gliding action.
Motor (for activating the sliding action mechanically)
Remote control (for monitoring or programming the equipment for a range of functions)
Powering up-Battery with adapter/AC input connector
Pan/Tilt action or both-the equipment usually has a gimbal or embedded motor for facilitating this function
Proprietary built-in apps-Many camera sliders for sale usually offer apps free of cost for connecting with a smartphone or tab
Connection cables
Regardless of whether you go for a Drylin slider or one with roller bearings, you should be ready to invest a good amount of money, if you want the equipment to last long term.
 Criterions for selecting an appropriate camera slider
  A quality camera slider should be able to fulfill the criterions mentioned hereunder:-
Movements along 3 axes-horizontal, vertical, and angled (some brands allow the camera to be positioned upside down)-Since you'll be shooting in different locations with varying topography, you'll need a camera slider that allows you to capture smooth and steady shots from various positions or angles. Going for a slider that lets your camera move along the aforementioned axes would be par for the course.
Enables at least 3 feet or 1m of sliding on the tracks-Almost all performance-oriented camera sliders have rails that are about 3 feet long. This length is perfect for capturing short range as well as long range shots. Technically speaking, the length of the camera bipod or tripod should be same as that of the rails. At the same time, the tracks along with the main equipment should disassemble easily for packing convenience.
Can be manually operated as per requirements-More often than not, your personal supervision will be required during filming or recording videos where you may have to be dispense with using the remote. The camera slider design or structure should be such that it makes manual operation hassle-free.
Heavy duty battery (lets you use the slider for 6-8 hrs continuously)
Heftiness/portability-Whether you'll select a slider that is light enough to be lugged conveniently or choose a hefty model will depend upon the nature of your tasks. Even if you choose a lightweight model, it should be able to withstand the load of the camera and tripod without affecting performance.
And if you're someone who flies regularly, you'll have to factor in packing the slider without exceeding the permissible luggage limit. Alternatively if you have to buy a large or heavy slider, see to it that can be dismantled completely for carrying convenience.
  Construction/Durability-A hardwearing camera slider is invariably constructed out of robust materials and usually comes with very few moving components. The lesser the total number of sliding parts, the easier it is to maintain the apparatus. Toughness implies that the equipment doesn't get dented or suffers minimal scratches or grazes even after extensive use.
Reviewing the Best Camera Sliders
Best Camera Slider Most Suitable with digital cameras and DSLRs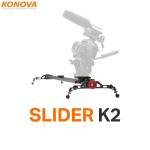 The Konova Camera Slider Dolly K2 is a versatile slider compatible with different camera models including but not limited to Canon, Panasonic, Blackmagic, Fuji, Nikon and Olympus. The equipment has been fabricated from industrial aluminum which makes it hardwearing without transferring heft to the user. The legs can be detached and folded down for easy transportation.
There are openings for riveting ¼" and 3/8" screws on both the ends for mounting camera in different positions. The rails are embedded with beams that are chrome coated for preventing corrosion as well as for facilitating sliding via roller bearings. Camera slider options enable you to mount photographic equipment horizontally, vertically, diagonally and from side to side.
FEATURES
Allows 4-axis mounting
Legs have rubberized fit for stable positioning on uneven surfaces
Option for monitoring resistance
Oil seal for heat dissipation
Compatible for using with a range of camera brands and DSLRs
Can be positioned comfortably atop a tripod as per convenience
Various tools have been provided in the package
PROS
Hardwearing construction: Fabricated from best grade of aluminum for enabling it to withstand heavy payloads
Chrome plated shafts protect the slider from rust as well as boost sliding action of the 3 roller bearings
Comes equipped with 3 stands that can be easily set up as well as dismantled for hassle-free packing and carrying
Compatible for setting up with a variety of accessories for capturing parallax shots as well as for shooting mechanically or by using a flywheel
CONS
Factory settings will require the videographer or cinematographer to go through umpteen settings before the slider is ready to use
The thumbscrews made from plastic are not durable enough
Not quite affordable for a first-time user
Most expensive camera slider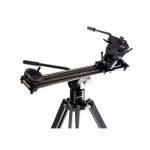 If you're looking for a topnotch camera slider and are willing to splurge for the same, then you don't need to look beyond the Kessler Pocket Dolly 3 Flat Mount Adapter. This accessory for camera from Kessler almost always features in all camera slider reviews and for good reasons. This slider retains Kessler's proprietary drivetrain that facilitates motion control but is also lighter.
Versatility of this camera slider enables you to use it manually via the cart brake as well as can be mechanized with the manufacturer motion stabilization systems. There are holes on both the ends for installing variety of mounting accessories for capturing perfect images and recording realistic videos from all possible positions.
FEATURES
Exclusive belt drive mechanism for smooth and perfect camera motion
Crank handle for manual monitoring of stabilization
Rig capable of withstanding camera and accessorial equipment weighing up to 15 pounds
CNC machined rail for minimizing wobbliness or shakiness
Wheels fitted with roller balls for smooth and silent operation
PROS
Compact and lightweight: the smallest model weighs less than 5lbs and the dimensions are apt for packing
Convenient to install: you can mount your tripod on the drivetrain without having to use additional mounting accessory
Solid construction enables the slider to tolerate rigs weighing up to a maximum of 15 lbs
An accompanying crank handle facilitates in steady linear sliding as it provides the required counterweight
The cart can be locked for both fixed and on the go shots
Compatible for using with proprietary motion control systems
CONS
Amateurs will really struggle to make the most out of this slider
Exorbitantly priced: Users will loathe to pay nearly $700 when a lot of cheaper versions are available
Most Durable Camera Slider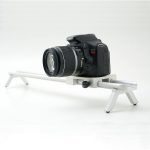 Make quality feature films or indie films that'll win you rave reviews from audiences and critics around the world with the help of DEV 1000 23" camera video stabilizer from Glide Gear. This camera slider under $100 features a 60cm long track chiseled out of premium grade of aluminum that allows you to mount camera and other related accessories weighing up to 9kgs. Sliding action delivered is smooth and efficient as the tracks are self-lubricating.
The camera slider also features a prominent knob with locking functionality for adjusting the resistance or friction. It comes with detachable feet for using independently or can be directly mounted onto your tripod.
FEATURES
Constructed from aircraft grade, anodized aluminum for long lasting performance
CNC machined rails minimize flex during sliding
Lubricated rails boost up smooth sliding
Knob for adjusting tension
Can be used on standalone basis or set up on tripod
Suitable for using with small and medium-sized DSLRs and SLRs
PROS
Extremely lightweight weighing 3 pounds or 1.36kgs enabling you to handle and carry the slider easily
Crafted from the best grade of industrial aluminum which has been anodized for an extended shelf life
Capable of bearing mounted equipment weighing up to 9kgs
The feet of the slider can be removed for installing on rigs
Feet have rubberized grips for steadying slider on rugged and uneven surfaces
Comes with adapter for mounting smartphones or tabs
CONS
The slide rail is not long enough for the user to capture shots at long ranges
Contrary to claims made by the manufacturer, the aluminum has not been CNC machined but die casted
Some users will feel the absence of accessories for stabilizing a camera vertically
Most versatile camera slider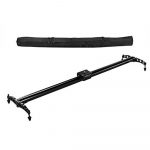 The Imorden 48"/120cm Middle Video Camera Slider Rail Dolly Track Camera Camcorder Slider is extraordinarily versatile in that it is suitable for using with any standard camcorder, action camera, or DLSR. This camera slider under 100$ has rails fashioned out of durable aluminum letting it tolerate mounted equipment weighing a maximum of 15 pounds. The stainless steel shafts running along the tracks safeguards them from getting corroded.
There are a total of 4 roller bearings fixed on the underside of the sliding plate which promotes smooth and silent movement. Both ends of the rails have multiple cut outs for mounting camera in different positions as well as for loading on a tripod.
FEATURES
Robust aluminum construction for a longer active lifespan
Stainless steel and chromium plated shafts for checking rusting
Roller bearing system for fast and even motion
Multiple holes on either ends for enabling various mounting positions
Eagle-talon styled feet for checking skidding
Camera slider bag provided for convenient carrying
PROS
Compatible for setting up with a host of digital cameras, camcorders, DSLRs, SLRs, and GoPro
Weight bearing capacity is a whopping 15 pounds (maximum)
There are many holes for riveting in 3/8" and ¼" mounting screws thereby helping in installing photographic equipment in different angles as well as for personalized mounting on tripods
Roller ball bearings for steady sliding of camera or camcorder resulting in the capture of steady shots
Long slider rail (120cm) for accomplishing close-up and long range shots
CONS
The slider can dip a bit when mounting between two tripods and might drag somewhat during sliding
You may need to use a ball head as the included golden screw may not help in stabilizing equipment for capturing shots from multiple angles
The drag is not always consistent
Best Camera Slider for supporting extremely heavy payloads
Of all the camera sliders Amazon that videographers and cinematographers take a fancy for, the Cinevate 24-inch V3 Duzi Slider surely has to be one of them. This camera slider automatic has rails made out of solid 15mm carbon steel with CNC machined 8 aluminum ball bearings making it effective for slick and impeccable sliding. It is a real workhorse as it can bear weight of up to 120 lbs which means you can mount the heaviest action camera along with other accessories and it'll still not budge.
Setting up the slider is a breeze as it can be installed on terra firma, center mounted on tripod or stabilized on a tabletop.
FEATURES
Constructed from thick carbon steel: extremely durable
Stupendous load bearing capacity: can withstand loads of up to 120 pounds
Urethane ball feet lock for stabilizing camera on the track
Duzis rail ends have holes for threading screws in order to stabilize camera and for mounting on tripod rigs
PROS
Rails have been crafted from premium grade of materials for using the apparatus for years on end
Comes with Duzis cheese plates on top as well as bottom for multiple mounting options
Capable of tolerating photographic equipment weighing up to a maximum of 120lbs
8 roller bearings allow for micro adjustments while sliding
Slider can be easily set upon any surface
CONS
When it comes to choosing a camera slider of good quality, you cannot afford to be generic.
Stabilizing your action camera or camcorder is a requirement that cannot be accomplished with the same degree of efficiency using any camera slider.
A particular slider that works perfectly with a Canon EOS 1300d may not work with the same level of perfection with a Nikon D5500 DSLR.
In this review, 5 camera sliders were taken up for perusal after picking and choosing from innumerable models.
Conclusion
Of the 5 models reviewed, three models stood out from the rest in terms of features including sliding action, range of motions, and so on. Camera sliders from Konova, Kessler, and Cinevate were expensive models that would appeal more to seasoned cinematographers. If you want to hone your filmmaking or video recording skills with a camera slider that is affordable then you can select either the Imorden or Glide Gear model.