Notice
: Trying to access array offset on value of type bool in
/var/www/html/bog/wp-content/plugins/wp-word-count/public/class-wpwc-public.php
on line
123
The sight of your garden covered in a bed of brownish yellow autumn leaves surely cheers you up but the very next moment when you think about raking up the dried leaves, irritation and disappointment takes over.
However, you can wish goodbye to all your frustrations regarding clearing away the debris of autumnal leaves and rotting foliage when you are armed with a garden rake. Rakes are best placed for scraping up foliage in a garden and scooping up dead leaves for transferring to a composter but these versatile gardening tools can also be used for tilling the earth, prepping the soil bed, and for scattering mulch.
Most of the garden rakes available in the market have a more or less similar design-an elongated handle with a broad rake head comprising tines forged from steel or resin. Leaf rakes, garden rakes, and lawn rakes are the most prevalent styles that are used by a majority of home-based gardeners, professional horticulturists, floriculturists, and agriculturists. A total of 5 of the best garden rakes have been reviewed in this blog which will help you to choose the one that will be appropriate for you.
Top 5 Gardening Rakes Reviews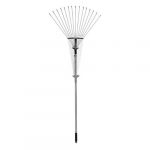 Rake up the bed of leaves enveloped all over your lawn as well as prepare the topsoil for planting saplings with the Adjustable Steel Rake from Bond Manufacturing Co. The rake comes with an extra long handle and a head comprising 15 twines that have been fabricated from quality steel. The handle can be telescoped up to an extent of 22-inches from its original length of 7-inches.
PROS
Telescoping handle aids in raking up and scooping foliage as per personal convenience
The rake can be locked in multiple positions which implies that the same can be used by persons having different heights and body sizes
The rake requires minimal space to put away and store
The rake tines and handle have been forged out of steel making the product durable
The tines can be adjusted without going forward or moving back
CONS
The clamping in the rake starts getting loose sometimes
The tines do not remain aligned after using the rake for some time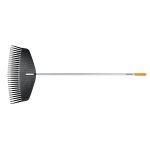 The task of keeping your garden spic and span becomes easier with the Fiskars Leaf Rake. The rake features a broad rake head with curvy tines, and is attached to an extra long aluminum handle, enabling you to comfortably scrape up dry foliage and dead leaves. Both the rake head and the spines have made been shaped out of virgin resin which renders them almost unbreakable and keeps them flexible for use.
PROS
Ergonomically designed rake makes it user-friendly
Lightweight and flexible: enables comfortable use without straining the knees and the back
Long and sturdy aluminum shaft offers good equipoise during raking
Tines made from purest grade of resin keeps them flexible and weatherproof
The wide rake head shifts a huge amount of leaves with each movement
CONS
Some users have reported that the rake is not competent in raking large, heavy and wet leaves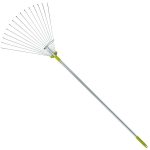 The Adjustable Garden Leaf Rake from Gardenite that spans 63 inches from the tine ends to the tip of the handle is surely one of the longest rakes that you can buy. The extra long handle coupled with the adaptable tine head offers you the leverage needed for raking up dead foliage and heaping the same into a neat pile.
PROS
Slender and durable tines helps in quick and efficient raking
The rake, 63 inches in length has been designed intelligently so as to minimize strain on the lower back and knees
The handle has been fabricated from steel lending it an extended functional life
Handle electroplated with zinc makes it rustproof and weatherproof
Needs minimal storage space owing to the contractible rake head
CONS
The tine ends might lose their original shape and become bent if the rake is used extensively for heavy duty tasks
May not be very effective in pulling out mulch from grass
The Bully Tools 92309 garden rake has been forged out of incredibly hardy materials which ensure that the tool will remain in service for a lifetime. The bow-styled rake head as well as the 16 tines have been carved out of 14-gauge tempered steel. The head has been firmly welded to the handle guaranteeing that the same will never come off.
PROS
Triple layered fiberglass handle makes it hardy and keeps it lightweight
Wide rake head with 16 tines constructed from premium grade of steel
Shock absorbing rubberized sections on rake head and handle for minimizing shoulder stress and wrist fatigue
Compact design for ease of use and storage in a small space
Perfect for raking, spreading, and tilling tasks
CONS
The rake is somewhat heavy for using in domestic gardens and lawns and more suitable for commercial landscaping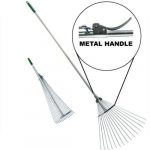 If you're looking for a performance oriented and versatile rake for keeping your lawn in pristine condition and always free from rotting foliage, then the telescoping garden rake from EZ Travel Collection is your best bet. This rake extends up to a maximum length of 68 inches from 32 inches and the steel tines extend in a range varying from 7.5-21.75 inches. The aluminum alloy handle with rubberized grip makes the rake easy to hold without compromising on firmness.
PROS
Telescoping handle comes handy for any raking job
Adjustable rake head enables the tool to be used for all kinds of raking chores as well as other gardening tasks
The length of the tines can also be changed in accordance with the nature of the raking job
Tines chipped out of toughened steel are long-lasting
The handle is of aluminum alloy that offers it hardiness as well as keeps it lightweight
CONS
The tine ends could get stuck sometimes owing to their structure
The lock switch and metallic release could get stuck during the winter
Verdict
Gardening rakes come perfectly handy for keeping your garden or lawn absolutely free from dry and dead leaves as well as for removing putrefying foliage. At the same time, this garden tool can also be used for spreading mulch, plowing the earth, and so on. Of the 5 garden rakes reviewed, the model from Bully Tools was voted as the best owing to its durable construction and ergonomic design while the rake from Bond Manufacturing Co was found to be the most affordable.