Notice
: Trying to access array offset on value of type bool in
/var/www/html/bog/wp-content/plugins/wp-word-count/public/class-wpwc-public.php
on line
123
You could be an ace wedding photographer or a seasoned cinematographer but can you bet that your hands always remain rock steady when preparing to capture a shot or shoot a video? Perhaps no photographer or lensman, no matter how experienced he might be, would be willing to stake his money on such a claim. Almost all cameramen or videographers use monopods and tripods that offer solid ground support for steadying the equipment.
The state-of-the-art digital gadgets that photographers, cinematographers, and videographers use like DSLR cameras, video cameras, and camcorders, have lenses with image stabilization feature. Nevertheless, when it comes to taking a perfect shot or recording a realistic footage with the equipment held in your hand, handheld stabilizers are your best bet. Handheld stabilizers which are variously referred to as steadycams, grip handles, and glidecams are extremely portable, easy to handle, and can be operated without using computers or batteries.
Handheld stabilizers come in perfectly handy especially during a wedding reception when the photographer needs to float from one place to another to freeze lifelike shots. This handy camera accessory also can be pressed into service when you need to click portraitures and selfies.
How popular are these camera stabilizers?
The demand and popularity for handheld stabilizers is growing with every passing day as standalone digital cameras, camcorders or cameras embedded in smartphones are shrinking in size. The image stabilization feature of sophisticated camera lens comes mostly into play when you install the camera on a tripod slider or monopod. But if you wish to take natural and candid shots by holding the camera with your hands, handheld stabilizers or steadycams would be indispensible.
You'll be spoilt for choice given the sheer variety of handheld camera stabilizers available online or offline each with its distinctive set of features and specifications. Before you can choose a product as per your needs and preferences, it is important to be in the know regarding the purpose or purposes it serves. Every single handheld stabilizer brand would help in capturing specific kinds of shots that are unique.
Factors to be taken into consideration before choosing a camera stabilizer
Apart from the inherent attributes of the various handheld stabilizers, following are some considerations to keep in mind while you're searching for an appropriate product:-
Balancing capacity: Both professionals and amateurs who've cut their teeth on digital cameras and DSLRs are well aware of the indispensability of steadycams for keeping photographic equipment steady. A handheld stabilizer is a simple and plain implement on which you mount the camera for maintaining its stability constantly while you move around or remain stationary to take photos. The main purpose behind using the stabilizer is to balance the camera's weight with that of the former.
The stabilizer's mechanical structure achieves this balancing act via counterweights that play a key role in minimizing even the minutest and subtlest of tremors or shakes. Therefore, you should always opt for a handheld mini stabilizer that is efficient in sustaining the equilibrium between the counterweight and the mass of the camera.
The weight of the stabilizer: The grip handle is exclusively designed for holding or carrying around with your hand. Handling the device for hours on end particularly during grueling photography sessions can be exhausting and your forearm could feel numb if the equipment is heavier than usual. Stabilizers fashioned out of lightweight materials like carbon fiber tend to be less heavy than their siblings constructed from metallic materials.
Preparation for capturing the shots-Doing your homework on how to get steady shots might go a long way in helping you choose the appropriate product for achieving those shots. The viewing angle and the composition of a shot are two significant factors that can make a big difference to the stability with which you freeze images.
The viewing angle capacity of the camera lens variously referred to as 'range of view' or 'field of view' can impinge on the steadiness of a shot captured with the handheld equipment. The after effects of quivering are barely noticeable when the viewing range angle is wider, say between 120°-180°. Any standard DSLR comes with lens that offers the abovementioned range of view.
While capturing images in stationary position, using a lens with a focal length of 35mm would offer you good range of view. The manner in which you frame the subject or object you wish to capture also has an impact on the shot's stability. In order to take a snapshot a fast moving or gyrating subject, for instance a ballet dancer, try including the subject in a larger frame. On the other hand, if you're attempting to capture shots by shifting the camera, refrain from framing close-ups.
Reviewing the 5 Best Camera Stabilizers
When it comes to stabilizing your video camera or DSLR (weighing up to 6lbs) for capturing smooth shots or recording crystal clear videos, you can bank on Opteka SteadyVid SV-HD. This camera stabilizer performs the basic job of steadying the camera as efficiently as any topnotch model that is much more expensive. This SV-HD platform can be moved back to front as well as sideways when adjusting the balance horizontally. There are weight discs which you can stack on or remove for balancing the camera vertically. The platform atop the stabilizer where the camera is installed can be panned and tilted for enabling the photographer to capture shots from various angles & positions.
FEATURES
Constructed out of superior grade of aluminum
Stabilizer is not only sturdy but also remarkably lightweight.
Black powdery anodized coating shields the equipment from corrosion and routine wear-and-tear.
Height of the stabilizer can be conveniently adjusted for an improved balancing of its weight with that of the camera's heaviness.
PROS
Appropriate for stabilizing any DSLR, video camera, and camcorder not weighing more than 6lbs
The top platform has numerous precisely chiseled out openings for mounting the camera in different positions
The vertical positioning of the camera can be fine tuned by removing or adding the six discs on the base plate
The SV-HD platform atop the stabilizer can be shifted forward and backward as well as from side to side for steadying the camera horizontally
Handgrip is rubberized letting you grip the stabilizer firmly without compromising comfortableness
CONS
More often than the balancing act can take inordinately long: too much trial and error before the user gets it right
Does not offer accessorial support: not compatible for using with related stabilizing accessories
The bearings and clamps at the low friction joints become unusable after a while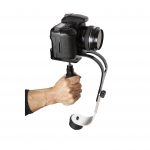 Capturing shots in crowded spaces, tight enclosures, inside speeding cars and trains or clicking images while you are running, skating or walking becomes effortlessly easy with the Official Roxtant Pro. The innovative and ergonomic design of this steadycam allows you to take immaculately smooth shots as wrist shakiness and tremors are minimal and barely noticeable. The handle just beneath the camera mount platform is coated with a high quality rubberized material that lets you grip the lever solidly even if your hands are sweaty. This stabilizer from Roxtant can be used with any DSLR, SLR, camcorder, video camera, GoPro, Canon, Pentax, and Nikon weighing up to a maximum of 2.1lbs.
FEATURES
Stabilizer has been constructed using metallic material
Does not transfer heft to your forearm because of the unique form factor
Varnished black all over, this glidecam is highly resistant to corrosion and extremely resilient.
Three distinct counterweights or weight discs for perfectly balancing the camera and the stabilizer.
PROS
Sturdy mount with holes for stabilizing the camera in different positions
The stabilizer can be folded down to a very small size facilitating convenient lugging as well as storage
Constructed from premium grade of aluminum which makes it incredibly robust and at the same time very lightweight
Three counterweights for steadying different models of cameras and camcorders in various positions
Anti-slip handle grip prevents the stabilizer slipping from your hands
Compatible for using with an array of camera, DSLR, SLR and camcorder brands
CONS
Might take inordinately long for working out the ideal sweet spot for counterbalancing camera with the stabilizer in the beginning
May not be able to stabilize DSLRs or camcorders slightly heavier than 2.1lbs
The ball head around which the stabilizer arm pivots gets squeaky in the long run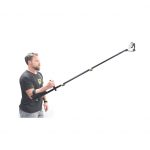 The Glide Gear System Jib System AXJ-100 is an extremely versatile stabilizer that comes with a 3.5m long arm and a gimbal for tethering a smartphone or a GoPro. The hand grip along with the forearm attachment comes in supremely handy for steadily mounting a small and compact digital camera. Being remarkably lightweight, this steadycam keeps your forearm relaxed and doesn't cause fatigue when you're recording footages for an extended time period. The AXJ-100 Glide Gear System is compatible for using with any camera weighing not more than 2lbs.
FEATURES
Crafted from 6061 CNC treated aluminum, the Action Jib
Capable of providing excellent support for capturing vibration-free shots.
Device has been given a plush black powder coating that makes it resistant to scratches and grazes and keeps it rust free.
Jib System AXJ-100 can be folded down completely and stored inside a carry bag
PROS
Stupendously sturdy construction: fabricated from 6061 CNC machinated aluminum
Supremely portable handheld jib helps in taking steady shots regardless of whether the photographer is stationary or on the go
The slim and compact form factor makes it suitable for easy handling
Lightweight design does not stress out your forearm especially when shooting for hours on end
Oxidized varnishing adds to its aesthetic appeal as well as keeps it free from scratches or stains
CONS
Balancing the camera with the jib might take some doing
Limited Compatibility: Suitable for using only with compact and small camera
Relatively expensive: many other stabilizers or steadycams that costs much less and capable of performing with equal or better effciency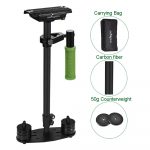 The S-60c Handheld Camera and Video Stabilizer is surely one of the most handy and resourceful handle grips that your money can buy. This handheld stabilizer is suitable for using with an extensive range of SLRs, DSLRs, camcorders, and video cameras weighing 2lbs to 6lbs. Videographers and cinematographers will instantly take to this camera stabilizer as it is ideal for recording videos and shooting indie films. There are 8 different counterweights (2X 200g, 2x 100g, and 4 x 50g) for steadying a range of lightweight action cameras like GoPro and SLRs as well as smartphones.
FEATURES
Not only is the handheld camera/video camera stabilizer eminently portable but its height is adjustable from 15" to 23".
Constructed from premium carbon fiber, this stabilizer is very sturdy and extremely lightweight
Quick release plate comes with screw knobs for fast and stable setting up of camera and video recording equipment.
PROS
Broad-spectrum compatibility: can be used with any DSLR, SLR, camcorder, and action camera with a weight varying from 2-6lbs
Lightweight and compact design: weighs 4.7pounds with dimensions of 16.5 x 9 x 5 inches
Carbon fiber construction makes the handheld stabilizer robust as well as portable
Rubberized handle for a comfortable and firm grip
Multiple counterweights for steadying a range of video recording gadgets
The elevation of the stabilizer arm can be adjusted at different heights
CONS
Quick release plate has to be recalibrated for moving the video camera backward or forward
Weights of the counterbalance discs are on the higher side which can make finding equilibrium an issue: some cinematography professionals may have to use washers
Users will have a problem sliding the gimbal particularly when the device is being moved up and down with great force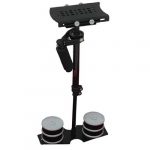 The DVC 17837 DSLR Flycam Nano is a topnotch camera stabilizer that seamlessly stunning looks with a suite of practical functionalities. This is one adaptable stabilizing system that is compliable for using with cameras and video recorders weighing 1.5kg-2kg. Cinematographers, videographers, and indie film directors and producers working on a shoestring budget will find this stabilizer immensely handy when taking shots or recording footages on the go.
FEATURES
Comes with a quick release platform for installing and moving the camera horizontally as well as vertically.
Openings on the platform for steadying the DSLR in positions that you'd find convenient.
Total of sixteen counterweight discs that you can stack on the base plate with the help of screws or remove as per your need and preference.
Handy stabilizer comes with a telescoping gimbal that can be sled up and down for determining the balancing sweet spot.
PROS
Stabilizing unit fabricated from aluminum and powder coated is hardwearing and resistant to grazes and stains
Quick release plate has knobs made from hard plastic to check squeakiness
The hand grip has been crafted from soft foam material enabling you to hold it solidly without sacrificing comfortableness
The stabilizer is suitable for setting up with cameras, DSLRs, SLRs, camcorders, and action cameras weighing between 3.3lbs-4.4lbs
The equipment can be easily assembled as well as dismantled for convenient packing in the packing case made of foam
CONS
The quick mount platform is not as steady as claimed by the manufacturer
The unit seems to have been built out of low grade of aluminum as it doesn't feel robust when used a little forcefully
The unit surrenders a bit of stability particularly when you're moving at a swift pace or walking briskly
Conclusion
Folding up the review, it can be inferred that there are quite a large number of handheld camera brands available that can make the cut when evaluated against the quality parameters. Therefore, selecting 5 performance-oriented models out of so many brands was indeed a tall order.
If you're looking for a handheld stabilizer that is quite lightweight, keeps your equipment fairly stable, allows multiple adjustment options and is affordable, you can settle for the Official ROXANT Pro costing under $65 or the Opteka SteadyVid priced around $100.
Even the IMORDEN S-60c is a stabilizer worth opting for costing a little less than $100. The DVC Flycam Nano or the Glide Gear Jib System AXJ-100 is equally versatile but you'd have to shell out a fistful of extra greenbacks for owning these.