Notice
: Trying to access array offset on value of type bool in
/var/www/html/bog/wp-content/plugins/wp-word-count/public/class-wpwc-public.php
on line
123
We reviewed 4 Hydration Backpack Packs
Introduction
Regardless of whether you're going for a short hiking trip or a challenging expedition lasting for days, keeping yourself hydrated helps you to stay the course. A quality hydration backpack pack comes perfectly handy enabling you to quench your thirst instantly and preventing dehydration.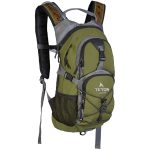 The Teton Sports Oasis 1100 2 Liter Hydration Backpack is comfortable to carry because of its lightness and compactness and comes with a hydration bladder for storing 2 liters of water. It features padded straps, large pockets, weather guard, and bungee cord.
FEATURES
Multiple pockets
Ventilated shoulder strips
2-liter bladder with three zippered pouches
Total capacity: 18 liters
Meshed straps
Chest shock absorber
FDA compliant
BPA-free bladder
PROS
Can be used by both men and women
Pockets and pouches easily accessible
Cushioned back panel with meshed design promotes air circulation
2-liter water bladder ensures that hikers stay hydrated at all times
CONS
The bladder can make the water somewhat smelly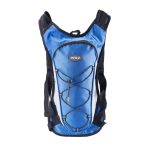 Seasoned trekkers and mountaineers can opt for the Pinty Hydration Backpack Packs with Water Bladder if they wish to keep themselves hydrated throughout the trail. This backpack has a separate compartment for storing water made from recyclable EVA material and two extra storage chambers.
FEATURES
Made from polyester and nylon
Bladder material: Biodegradable EVA
Weight: 9.17oz
Capacity of bladder: 2l
Adjustable waist strap
Modifiable chest straps
Holder for drinking tube
PROS
Drinking tube enables quick access to drinking water
Screw cap for inserting ice cubes
Bladder made from foodgrade and environmental friendly materials
Multipurpose: can be used by hikers, joggers, bikers and even young mothers
CONS
Water may leak if cap is not locked perfectly straight
No instruction manual on how to use the bladder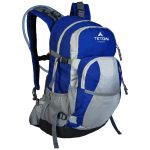 The Oasis 1200 3 liter hydration backpack is another versatile pack from Teton Sports that any and every outdoor enthusiast will find immensely useful. The USP of this hydration backpack is its 3-liter bladder that comes with a hardy sipping tube and cushioned valve.
FEATURES
Adjustable and comfy
Lightweight
BPA-free and FDA certified 3-liter bladder
Large zippered pockets
Weather guard
Meshed pads with airflow channel
Sternum shock absorber
PROS
20-liter capacity allows packing of sufficient items
3-liter bladder with sip tube allows quick access to water
Accompanying rainfly offers protection from rains
Robust and lightweight
T-channel ventilation
CONS
The mouth tip is difficult to open and sucking water out requires a lot of effort
Water takes on a plastic smell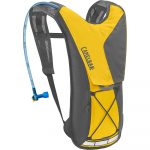 CamelBak is a reputed brand known for producing high quality hydration backpacks pack. The Classic hydration pack is another premium product from CamelBak that features large pockets for storing toolkit and essential trekking items. The pack also has an antidote reservoir for storing water.
FEATURES
Water reservoir with mouthpiece and tube
Zippered closure
Lightweight: weighs 2.5lbs
Material type: Reinforced nylon
Reflective strips
Rear webbing
PROS
Lightweight and compact
Stores 70 ounces of water enough to last 2hrs
Numerous devices can be rigged to the backpack
Rear webbed pouch for holding an extra piece of clothing
CONS
Not suitable for heavily built individuals
The absence of Velcro straps will be felt by many hikers
Will not hold many items as it is a minimalist pack
Conclusion
Of all the essential items that an adventurer or hiker carries a hydration pack surely is one of them. The availability of a large number of brands can make selecting a hydration backpack customized to one's specific needs is not easy. The Teton Sports hydration packs could be packed both for a day trip and week-long trails. The Pinty backpack is also good for storing water and is very affordable while the CamelBak is more suitable for packing during a half-marathon meet.