Notice
: Trying to access array offset on value of type bool in
/var/www/html/bog/wp-content/plugins/wp-word-count/public/class-wpwc-public.php
on line
123
We reviewed 4 Navigation Maps & Compass for Hikers and Trekkers
Introduction
A hike helps recharge your batteries but navigating in an unknown territory or finding your way back to where you started from can be hassling especially at night or in the evening. Though hikers have access to hi-tech gadgets like smartphones, GPS watches, and portable GPS gadgets, nothing compares with the versatility of a classic compass. You can easily figure out your exact location using a compass and a navigational map provided you've some basic course-plotting skills.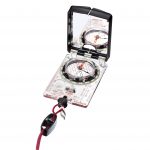 The Suunto MC-2G in Global Compass features a clinometer, rotating bezel, ruler, sighting mirror, and a magnifying lens making it ideal for navigation during trekking, mountaineering, and hunting etc. Also, the compass's hardy construction makes it supremely resistant to water, weather changes, and rough handling.
FEATURES
Adjustable declination
Global needle compatible for all world zones
Luminescent indicators
Sighting mirror
Analog function
Adjustment key on lanyard
Scales graduated in inch and cm
PROS
Extra sighting orifice improves accuracy of reading
Anti-slip rubberized pads for stable placement
Luminous bezel emanating two bright colors for nighttime visibility
Removable snap-lock for using conveniently with navigational maps
CONS
Markings get erased from the bezel after some months
Outer ring stays illuminated for a short interval
The protective cover is not very durable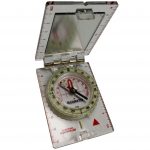 The Suunto MCA-D compass with a compact, crystal-clear mirror and featuring a permanently set declination scale comes extremely handy for hikers, trekkers, mountaineers, surveyors, and rescue patrol teams. Mirrored lid closure can be made to open at 60°, 120°, and 180° for figuring out precise location and can also be made to shut firmly thus offering full protection to the compass.
FEATURES
Durable construction
Liquid filled
Rotating bezel
Features a ruler
Sighting mirror doubles up as emergency signaling reflector/indicator
PROS
Premium quality steel needle having jeweled bearings helps in correct reading
Straightened edge for using suitably with maps
Protractor has orienting lines helps navigation via maps
Luminous markings for navigating in dim light conditions
CONS
Setting some functions can be complex
No switching on/off knob for saving battery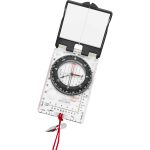 The Silva Ranger CL 515 is an extremely versatile compass that serves the purpose when you need to find your way while you're out hiking, mountaineering or hunting. The compass comes with a luminous bezel, ruler, magnifying lens, clinometer, and sighting mirror that help in faultless readings.
FEATURES
Large sighting mirror
V-notch
Comes with inch and millimeter rules
Clinometer
Luminous bezel
Silicon feet
Lanyard having adjustable slider
PROS
Silicone feet helps in gripping maps
Clinometer aids in calculating inclination or declination of vertical slopes
Magnifying lens enlarges viewings
CONS
There is no global needle
Bubbles might form in the liquid
Separate tools required for adjusting declination
The Brunton TruArc 3 Base Plate Compass is an extremely affordable compass that doesn't compromise on functionality. This compass comes to your aid as it has all the components helping you to keep on track while you explore the countryside or a forested area.
FEATURES
Graduation in 2 degrees
Inch and centimeter scales
Global needle
Tool-less compensation for declination
PROS
Extremely convenient to hold
Rotary bezel for fast and precise readings
Baseplate has a straight edge with inch markings that helps in reading maps
Adjustment for declination without using tools
CONS
Non-luminous
Declination marks can be difficult to sight
Conclusion
What features should a compass have that makes it competent enough to be used for the basic purpose of finding direction? A compass should allow for declination adjustment, should have a global needle so that it can work anywhere, and have a sighting mirror for studying the compass as well as viewing the surroundings, and so on. All the 5 compasses reviewed in this article were equipped with most of the basic features rendering them capable of using during a trekking or hunting trip.