Notice
: Trying to access array offset on value of type bool in
/var/www/html/bog/wp-content/plugins/wp-word-count/public/class-wpwc-public.php
on line
123
We reviewed 4 Repair Kits and Tools for Hikers
Introduction
A nature trail deep in the countryside or an arduous trip to the mountains can be spiritually stimulating and help recharge your batteries. However, an unexpected fall while lumbering through a jagged track or your backpack getting torn or the sleeping pad becoming leaky could mar the trek and make it woeful. Therefore, it doesn't need to be exaggerated that tossing an emergency survival/repair tool kit inside your backpack is a must.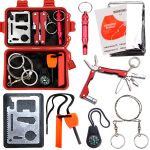 The Outdoor Emergency Gear Kit from EMDMAK comes equipped with a range of emergency tools that a day hiker as well as those trekking to remote locations will find handy. There are six vital implements packed inside a sturdy and waterproof case and a survival blanket too has been included.
FEATURES
Case packs in tool card, fire igniter, compass, wire saw, multipurpose pliers with flashlight, and emergency whistle
Emergency blanket
Hardy case
Tools crafted out of durable materials
PROS
Each and every gear serves a specific need
The tool card can be used for a range of functions
The flashlight pliers are multifunctional as well
The packing case is robust, compact, waterproof and impact resistant
The compass helps keep you on track
CONS
Compass may not always work
The whistle may not unscrew in extremely cold weather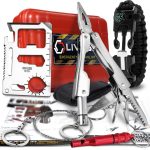 The LIVABIT First Aid Safety Tool F.A.S.T contains a set of emergency/survival gears that hikers, mountaineers, hunters, and adventurers can make good use of. The hard case houses a wire saw, multipurpose flashlight pliers, emergency whistle, compass, and multifunctional tool card.
FEATURES
Zippered, waterproof tool case
Fire starter
Multifunctional pliers with flashlight
Wire saw
Emergency whistle
Compass
Case is compact
PROS
The multifunctional pliers can be used for a variety of purposes
A multipurpose bracelet with fire starter, whistle, and compass
Box pack made from toughened plastic is hardwearing
Compact and lightweight hard case
CONS
Sometimes the box pack may not close shut tightly
The emergency whistle is fragile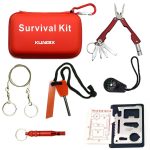 You can light up a bright and warm fire even when it's freezing cold, suspend a hammock or chip firewood with the help of Outdoor Emergency Survival Gear Kit from Kungix. A stainless steel tool card, flashlight piers, emergency whistle, compass, and fire starter come packed in a zippered waterproof case.
FEATURES
Robust construction
Versatile and multifunctional
Extraordinarily compact and lightweight
Impact resistant
Waterproof
Weatherproof
Affordable
Effective both for indoor and outdoor use
PROS
The toughened tool card is the most resourceful
The hardwearing case is convenient to pack and easy to carry
Can be used for carrying repair or mending work in home as well
Ideal for survival in the wilderness
CONS
The carry case is not as tough as claimed
Knife loses its sharpness in a short time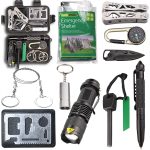 EMDMAK is well-known for coming up with handy survival tool kits and the above outdoor emergency gear kit perfectly embodies that. This outdoor emergency gear kit comprises of a tungsten steel pen, a shelter tent, and multifunctional pliers amongst other items.
FEATURES
Handy waterproof case includes a total of 9 items
Package comes with a tent
Lightweight and compact
Shock resistant case
Components made from durable plastic or stainless steel
PROS
Every tool is useful starting from survival knife to wire saw
The steel tool card itself houses 11 distinct implements
Flashlight has 3 distinct light modes
Compactness and lightness of the pack makes it convenient to pack and carry
CONS
Batteries have to be bought separately
Conclusion
A hiker planning for a trek to a location that is far away from the trailhead cannot afford to do without a repair/emergency survival tool kit. Each and every survival tool kit assessed in this review included the basic minimum gears necessary for surviving in the wilderness. However, the tool kits from EMDMAK stood out from the rest.