Notice
: Trying to access array offset on value of type bool in
/var/www/html/bog/wp-content/plugins/wp-word-count/public/class-wpwc-public.php
on line
123
As a gardener or a floriculturist, more often than not, you've had a backbreaking experience attempting to chop off 2-inches thick branches or wayward tendrils with your pruning shears. Pruning shears or loppers at best can tackle moderately thick branches and stems of woody plants and bushes but when it comes to hiving off chunky and unwieldy limbs, you can't do without gardening saws. A saw is a must-have tool that any and every passionate gardener should keep in his or her gardening tool kit.
Garden saws serve as transitional tools filling the gap between the chainsaw and pruning shears and complement the action of both these tools. A pruning saw essentially comprises of a curved or straight blade usually of medium length with pointed and sharp teeth, and is permanently riveted to a robust handle. The cutting efficiency of the saw basically depends upon the degree of the blade's sharpness and the extent of curvature.
Different types of garden saws are available including pole pruners, handheld saws, and pruning saws with curved and straight blades. Understanding the features of each kind and the specific set of purposes they serve will go a long way in enabling you to choose the one for your garden.
Top 5 Gardening Saws Reviews from tree surgeon in sutton coldfield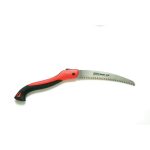 Effortlessly slice through thick and tough branches and tendrils of plants or trees in your garden with the Corona RS 7265D Razor Tooth Folding Pruning Saw. The RS 7265D consists of a 10-inch blade with 6 sharp teeth in every inch that easily saws through branches with 5-6" diameters. The blade has carved out of Japanese High Carbon SK5 steel that imparts to the razor an extraordinary durability and resilience.
PROS
Curved blade shaped out of premium grade of Japanese steel for fast and heavy-duty pruning
Co-molded handle comes with a pistol-styled grip for promoting a more firm hold and minimizing hand slippage
6 teeth in every inch accelerates the sawing action
Blade is electroplated with chrome for diminishing resistance
Triple ground blade for multipronged cuts
Chrome plating also makes the blade rust resistant
CONS
Many users will find the single locking position with a depress latch function somewhat inhibiting
Flexing blade
No protective sheath or scabbard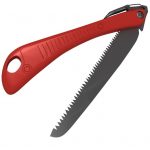 The Tabor Tools Landscaping Folding Hand Saw is a multipurpose tool that you can use for pruning unwieldy tendrils and thickets as well as take along with you on camping or hiking expeditions. The non-slip, lightweight handle features a pistol-shaped grip end for a firmer grasp. The handle also doubles up as a scabbard for sheathing the blade and enhancing its functional life.
PROS
Precise and sleek cutting action with draw strokes
Triple-grounded blade leads to multi-angled and multifaceted slicing
Lightweight enough to be packed in a backpack
Click lock mechanism: easy to flip open and close
Can be slipped inside trouser pockets in its folded form
The saw is weatherproof and rust resistant
Lanyard hole at the end for suspending from racks or stands
Ideal for camping, gardening, commercial landscaping and using during emergency situations
CONS
Locking system is not stable
Contrary to what the manufacturer claims, the grip is not comfortable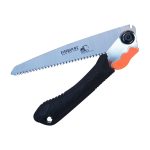 The EverSaw Folding Hand Saw from Home Planet Gear is a versatile multipurpose tool featuring a hardy 8" blade with triple-pronged teeth making it perfect for pruning, sawing, and slicing overgrown branches. The sharp teeth can smoothly cut through plastic, bone, and wood and is equipped with an ergonomically designed non-slip handle which provides the leverage required for any slicing task.
PROS
8-inch blade extends up to 17 inches when fully open
9-teeth per inch for smooth and perfect cutting action
Carbon steel construction prolongs the blade's functional life
Blade folds and sheathes inside the handle
Blade can be made tauter or loosened via adjustable latch
Portable
Coated for reducing wear and tear
Cuts wood, bone, and plastic up to 4" in diameter
CONS
One has to struggle to saw branches thicker than 2 inches, unlike what has been claimed by the manufacturer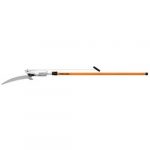 Wrap your fingers around the sturdy handle of the Fiskars 14 Foot Power-Lever Extendable Tree Pruner for hiving off overgrown tree branches and plant tops that you cannot access with a hand pruner. The tree pruner can be telescoped up to a maximum length of 14 feet which does with the need to use a ladder. Also, the 15-inch long WoodZig blade can easily and quickly lop off out of reach branches.
PROS
Power-lever technique offers optimum power and maneuverability for swift cutting action
Pole is long enough to position the blade on the farthest branches: no ladders required
Can cut through stems and branches 1 to 1.5 inches thick
Blade crafted out of precision-ground steel
Low-profile coating keeps blade rust free as well as helps it to saw through wood and check build of sap or debris on the surface
CONS
The gap between the winch and the blade is high enough for the cord to get stuck
Instructions for tightening or loosening the blade are not provided
The Samurai Ichiban 13" Curved Pruning Saw features an extra long blade with several teeth per inch that lets you slice up to 4" inch branch with ease. The Kyoku blade has been forged out of the best grade of Japanese steel that makes it effective for rapid cutting action yet keeps it lightweight. The handle grip is curved and looped which lets you grip the saw with firmness.
PROS
13" curved blade with razor sharp teeth
As effective as a chainsaw without fatiguing out your hand
Lightweight design: enables the saw to be used for hours at a stretch
The blade is permanently riveted into the handle: will never come off
Scabbard for sheathing saw provided free of cost
Blade is weatherproof and rustproof
Ideal for using a camping, gardening, and forestry tool
CONS
The handle has been fashioned out of flimsy plastic material
Blade is rust resistant and not rustproof as claimed by the manufacturer
Verdict
A total of 4 handheld pruning saws from Corona, Tabor Tools, Home Planet Gear and Samurai and 1 pole saw from Fiskars were assessed against some basic attributes like durability, performance, and ease of use. The Samurai Ichiban saw that sported a 13" blade crafted from the best grade of Japanese steel was rated the best and the saw from HouseBait was the cheapest yet performed efficiently.