Notice
: Trying to access array offset on value of type bool in
/var/www/html/bog/wp-content/plugins/wp-word-count/public/class-wpwc-public.php
on line
123
What is a hybrid bike?
What is a hybrid bike? Let's discover more here. The answer to the question lies in the terminology itself. To be precise, a hybrid bike is a cross between a mountain bike and a road bike so it incorporates the unique features of the latter bike categories. Simply put, hybrid bikes can be ridden on both paved and metaled roads as well as on rocky, sandy, and other kinds of rough tracks.
A hybrid bike's frame is ergonomically designed enabling the cyclist to sit in an upright position that is comfortable enough so as not to cause any stress on the neck, shoulders, and the back. A completely flat handlebar is another standard feature of hybrid bikes enabling the rider to steer the bike steadily while remaining in an erect position.
Advantages and Disadvantages
The benefits that you'll derive from using a hybrid bike will largely depending upon the specific features of the particular bicycle not to speak of the disadvantages. For instance, if you're looking for a hybrid version that will be more convenient for riding on mountainous, elevated or jagged tracks, then you'll have to be mentally prepared to sacrifice speed riding. Though hybrid bikes generally come fitted with larger and wider wheel sets for smooth riding on city roads and streets, you can install either treaded road bike tires or knobby tires housed in mountain bikes.
Following are some of the unique advantages of hybrid bikes:-
Hybrids bikes are synonymous with versatility and the most adaptable amongst all categories of bicycles. You can take a hybrid along a road paved with stones and pebbles, ride it on muddy or sandy track, and steer up a steep mountain path. The wheel rims and tires of a hybrid bicycle are meticulously designed which makes the bike sufficiently effective to be ridden on a wide range of terrains and trails.
Hybrid bikes are classified under the hardtail bicycle category which implies that they've a front suspension system. The suspension fork tethered to the front wheel and the spring coils underneath the saddle prevents the cyclist from bumping when riding over a road breaker or hurdle.
Keeps cyclists physically active
To keep oneself in the pink of health it is extremely essential to exercise on a regular basis. Surely, riding a hybrid bike is one of the best means to boost blood circulation and keep the muscles in the body active.
A premium quality hybrid bike comes with attachments for securing a water bottle, a basket attached to the middle of the handlebar for storing essential items, and karabiners for strapping carry bags or rucksacks.
Disadvantages
Steeper head tube makes climbing on elevated tracks difficult
The upright position while sitting on a hybrid works against the cyclist when he is trying to ride uphill as his weight would cause him to topple
Hybrids bikes only have a front suspension system which means the rider's back or buttocks are not immune from impacts or shocks arising out of the rear wheel going over rocks or roots
Essential Gears of a Hybrid Bike
Lightweight and robust frame
Hybrid bikes come with frames that are generally carved out of steel, aluminum, carbon fiber, and titanium. The affordable models usually have frames made out of either steel or aluminum while the more costly ones feature carbon fiber frameworks. The high-end and premium models have frames curved out of titanium which makes the hybrid bike portable enough to be carried up the stairs or lifted onto a bus. At the same time, the durability of a frame enables it to withstand rough handling and routine wear and tear.
Comprehensive gear system
A hybrid model is designed and built to be used on an array of terrains and so it goes without saying that such a bike is equipped with front and back derailleurs each having multiple gears. Hybrid bicycles typically come with 21-24 speed shifters.
Almost all quality hybrids come with hardy fenders that acts as a shield preventing water or slush squirted up by the tires from soiling you. Many models come with rack mount at the backend that allows you to place your backpack in it which shifts your center of gravity to the lower side thereby letting you ride with steadiness.
Entry level bikes usually have disc brakes that can be difficult to adjust and set up compared to topnotch models that have V-brakes.
Hybrid bikes are outfitted with handlebars that have a flat form permitting the cyclist to ride with steadiness in the face of wind resistance
The tires and rims housed in hybrid bikes are narrower and heavier than their counterparts in road bikes. So, the most noticeable upside of using such a tire is that you don't have to worry about the same going flat. And the worst downside is that you'll have a trying time even pedaling on elevated territories, let alone cruising.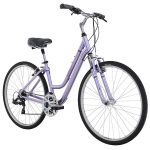 The Diamondback Bicycles 2016 Women's Vital 2 Complete Hybrid Bike is a pleasure to ride regardless of whether you're trying to get to office in time or attempting to keep yourself fit. The DB aluminum framework has been designed scrupulously that keeps you steady without having to sacrifice comfortableness. The front suspension fork checks vibrations and wobbles while you're going downhill.
The steel handlebar makes for steady yet comfortable grip while you ride through rocky or paved tracks. The drivetrain sports 21-speed shifters letting you pedal at a speed you're comfortable.
PROS
Durable and lightweight aluminum frame
Shimano TX51 derailleur at front and Shimano TX55 rear derailleur facilitates gear shifting a child's play
Tektro linear brakes lets you stop or slow down with minimal adjustment
SSW700 Double Tunneled aluminum alloy rims together with Kenda Cross tires reduce tread and increases grip on muddy tracks
Saddle post has a suspension spring system that takes the knock during bumps
CONS
Many cyclists will feel the absence of attachments like rear rack, bottle holder, and kick stand
The absence of fenders means mud or water may soil your lower extremities when riding on muddy tracks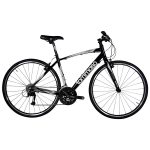 The Tomasso La Forma Lightweight Aluminum Hybrid Bike is a full performance bicycle that allows you to smoothly ride on any hostile terrain in the countryside or in the mountains as well commute on city roads. The bike features a compact and sturdy aluminum frame, HCT carbon fork, and gel grip handlebars that let you pedal steadily and effectively on any surface. The drivetrain comprises a Shimano Acera gear set which again is made up of 48/36/26T crankset and 11/32 cassette allowing cyclists to alter gears in accordance with the terrain.
PROS
Compact and lightweight aluminum frame
32mm Kenda tires offers good grip and minimizes friction
Shimano crankset and cassette for hassle-free rides
WTB saddle makes for comfortable positioning
Shimano derailleurs and shifters for relaxed gear shifting
HCT carbon fork checks vibration and absorbs shocks
CONS
Absence of fenders means you're not protected from mud or water squirted by the wheels (though the frame is drilled for attaching fenders)
There are no racks for storing essential supplies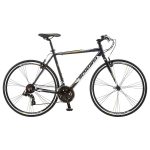 If you're looking for an affordable hybrid bike that you can use for commuting to office or the supermarket as well as for off-roading, then the Men's 1200 700c bike from Schwinn is perfect. This Schwinn hardtail hybrid bike comes outfitted with proprietary aluminum frame and fork that offers you stability during rides and keeps vibrations to a minimum. Alternatively, the 21-speed Shimano speed shifters with rear derailleur come handy for shifting gears smoothly as per your convenience.
PROS
Framework and fork constructed from high quality aluminum
Shimano rear derailleur coupled with Shimano speed shifters for convenient gear shifting
Alloyed brakes with linear braking mechanism
Sturdy alloyed rims with large and wide wheels for good grip
Schwinn alloy crankset makes the drivetrain performance oriented
CONS
The saddle is incredibly hard
The handlebar grips, crankset, and the saddle are of low quality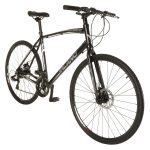 The Vilano Diverse 3.0 is another highly affordable hybrid bike equipped with functional features that you can make the most of when you're commuting to office or cycling in the woods. The framework and fork, shaped out of 6061 aluminum, the mechanical disc brakes, the 24-speed Shimano gears, 700c Kenda tires, and Shimano Tourney TX front/back derailleur systems, all coordinate seamlessly resulting in comfortable rides.
PROS
6061 aluminum frame and front suspension fork keep the bike lightweight
Mechanical disc brakes helps slowing down or coming to a stop in rain or shine
Erect handlebar promotes steady rides
Performance oriented drivetrain for cycling on different terrains and tracks
Broad saddle for comfortable seating
CONS
The saddle is somewhat hard making it painful to seat stably during a long ride
The mechanical brakes are a little too stiff
Many riders will feel the absence of fenders and racks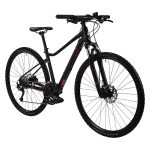 The Marin San Rafael DS3 LE Sport Hybrid Bike has been designed and fabricated with meticulous care enabling the veteran cyclist to glide on a pavement or pedal on a graveled track. At the core of this hybrid bicycle is a robust Marin Series 3 aluminum frame with drilled orifices for attaching fenders and racks. The Suntour hydraulic lockout NEX fork dampens vibrations and impacts as you cruise on city roads or unpaved trails.
PROS
Marin Series 3 aluminum ergonomic framework for comfortable and steady rides
Shimano Alivio 27-speed shifters help pedaling on a range of terrains
Suntour front suspension fork for making rides vibration and shock free
Hydraulic disc brakes for excellent stopping power
Schwalbe tires with rut patterns for intensifying grip and thwarting tread
CONS
There is no fender over the front or back wheel
There is no rack for housing essential items while riding
Conclusion
A hybrid bike serves as the transition between a mountain bicycle and a road bike. So, riders who want to go for a bike that they would be able to ride on a variety of terrains can choose a hybrid model instead of buying two different bicycles. 5 different brands of hybrid bike-Diamondback, Tomasso, Schwinn, Vilano, and Marin Sal Rafael- were reviewed where each and every model was found to be satisfy the criterions for labeling under the category of hybrid bikes.