Notice
: Trying to access array offset on value of type bool in
/var/www/html/bog/wp-content/plugins/wp-word-count/public/class-wpwc-public.php
on line
123
What is a Mountain Bike?
If you're looking for a heavy duty bike that you can use extensively on off-road trails including but not limited to jagged and mountainous tracks, then a mountain bike is your best bet. Since mountain bikes are specially and scrupulously designed to be ridden on rugged, sandy, and graveled surfaces, they have a hardwearing and rigid frame with a sturdy handlebar, durable drivetrain, and heavy-duty tires. Depending on how much you are willing to invest, you can opt for an entry-level or a high-end, specialized mountain bike that comes outfitted with premium mountain bike parts.
Quality mountain bikes have heavy duty bike parts including thick tires with durable spokes and rims, aluminum or carbon fiber frames, upright handlebars, and multi-speed derailleur systems which make them performance-oriented.
Advantages of using a Mountain Bike
Before you visit a bicycle store to bring home a mountain bike, make sure that you'll be using it mainly for off-roading. Since all mountain bikes are not created equal, carry out meticulous research to know the details about the different mountain bike types or categories. Mountain bikes are basically classified into 4 distinct categories based upon the suspension mechanism:-
Hard tail– A hard tail mountain bike is equipped with a 'suspension fork' fixed to the front wheel in an otherwise rigid framework
Soft tail-Soft tail mountain bikes don't have a suspension either at the back or front but are designed painstakingly so that they can withstand and minimize vibration
Dual or full suspension:-Mountain bicycles with dual suspension system have a telescoping fork at the front and the split at the rear is tethered with the adjacent parts
Rigid-Mountain bicycles ground under this category neither have front suspension nor have rear suspension
Each category of men's mountain bike comes with its specific advantages and disadvantages. Since the dawn of the new millennium, bikes fitted with 29 inches wheels have become more popular with bikers and have subsequently outstripped the demand for bikes having 26-inch wheels. A 29er mountain bike is more suitable for using on rugged and unpaved terrains and mountain bicycles' manufacturers are laying more stress of selling 29ers. Following are some benefits and disadvantages of using mountain bikes:-
Mountain bikes with 29-inch wheels popularly known as 29ers offer a greater stability which means they're most likely to stay on course
Large wheels coupled with a built-in suspension system enables them to absorb sudden shocks and impacts that result from riding on bumpy tracks
The advanced and scientific design of a mountain bike allows the cyclist to accelerate without losing stability or steadiness
Increased contact area (of the tires) helps in negotiating sharp bends and curves
Taller riders are able to position themselves better on mountain bikes because of their larger frames
Drawbacks
Accelerating mountain bikes with 29-inch wheels might require more effort than pedaling 26ers
Greater braking power is required to stop or slow down a mountain bike especially when riding at high speeds
Finding exact replacements of frames, forks, rims, and tires or repairing the components could be an issue
Essential gears for mountain bikes
A mountain bike happens to be sturdier than a road bike or a hybrid bike simply because the former can tolerate terrains that the latter won't be able to. Following are some of the essential gears that you'll come across in mountain bikes:-
Frame-Depending upon the price of the product, the frame could be either chipped out of steel, aluminum, carbon fiber or titanium. Mountain bikes at the lowermost end of the spectrum (in other words the cheapest models) usually have frameworks chiseled out of steel. Steel frames on one hand are durable and hardy but tend to make the bicycles heavy and can corrode in the long run.
Mountain bicycles with aluminum frames are costlier than ones having steel frames. Aluminum frames are relatively lighter compared to chassis constructed out of iron and are rustproof but are subject to heavy wear and tear.
A mountain bike sporting a carbon fiber frame happens to be more lightweight than steel or aluminum models, is rustproof and hardwearing but is vulnerable to breaking eventually. Mountain bikes with carbon fiber frames can be expensive depending upon the make and quality of the rest of the components.
Wheels-Mountain bikes are reinforced with robust and wide tires with grooved patterns that help in minimizing tread and gripping the surface more effectively on sandy, graveled, rocky or muddy terrains. Tires tend to be softer than those of road bikes and also have a greater size for improved tread. The rims and spars in tires of mountain bikes are more durable as well.
Handlebars-Mountain bike handlebars are typically flat and upright that makes for a firmer grip without compromising on comfortableness. The rider is able to position himself in an erect position after holding the handlebars ultimately resulting in an improved range of vision and better bike control.
Gears-A mountain bike could feature a variety of gear combinations ranging from 16-27 possible arrangements. The wide variance in gearing combinations makes the mountain bike effective enough to tackle different types of terrains.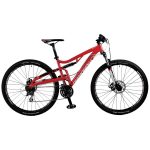 Hardcore bikers and cyclists will simply love to pedal on the Diamondback Recoil 29er which is a full suspension mountain bike. The frame, chipped out of 6061-T6 aluminum alloy is incredibly sturdy, and its butted tubing form factor keeps the bike lightweight. The SR Suntour XCT fork at the front and the 4 inches of rear suspension facilitates excellent shock absorption enabling the Diamond Recoil to smoothly coast over jagged, muddy or sandy tracks. The efficient drivetrain comprising a 24-gear set, derailleur at the front and back, and the 11/32T cassette work in tandem letting you ride smoothly on the harshest of terrains.
PROS
Schwalbe Rapid Rob 29 x 2.25 tires with rut patterns minimizes friction and increases grip
Kevlar belt on tires diminishes chances of puncture
The handcrafted full-suspension aluminum frame is sturdy and lightweight
Intuitive drivetrain with speed-shifters allows comfortable riding on different trails
Suspension fork at the front and back checks vibration when riding over rocks, roots, and pebbles
Tektro Aires mechanical brakes come handy when the rider needs to slow down
CONS
May not be suitable for extremely tall riders
Popping up the front wheel may require some effort especially when pedaling on elevated tracks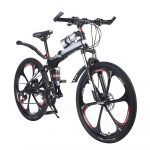 The dual-suspension mountain bike from OPATER not only looks stunning but is loaded with a range of versatile features. The bicycle features a 26" carbon steel frame, aluminum alloy fork, Shimano derailleur at the back and front, and 24-speed gear system which makes riding a breeze on any type of track or terrain. This bike can also be folded down to half its size allowing cyclists to carry it on trains, buses, and planes.
PROS
Performance-oriented and robust bike specially built for off-roading
Frame shaped out of industrial grade carbon steel
26-inch rut-patterned New Haiya tires for improved grip
Disc braking system lets rider slow down and stop quickly even when moving at high speeds
Dual suspension mechanism cancels out shuddering and out of turn impacts
CONS
Somewhat difficult to control when riding uphill or going downhill at low speeds as steering response time is reduced
There could be issues with positioning like toe overlap or some riders not feeling comfortable sitting on the saddle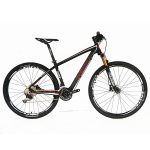 The BEIOU Carbon Fiber 650B is one of the best mountain bikes that you can buy. Yes, this men's mountain bike is expensive, costing more than US$1000.00, but you can bet that you much more than what you pay for. Toray T800 carbon fiber has been used for constructing the frame, seat base, and the handlebar.
The 30-speed Shimano gear set, aluminum alloy fork at the front, integrated crankset, and the cassette sprockets all coordinate to enable the cyclist to cruise or ride casually according to his convenience.
PROS
Carbon fiber frame, handlebar, and seat post does not transfer heft to the bike
Flat handlebar lets the rider balance himself steadily as well as tackle wind resistance
UDING air suspension fork absorbs shocks and cushions impacts
Hydraulic disc brake system helps in slowing down and stopping
27.5-inch wheel set with carbon fiber hubs
CONS
Many riders will feel uncomfortable resting on the seat owing to its hardness
The pedals are not as tough as other components on the bike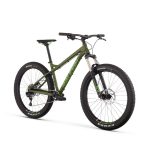 The Raleigh Tokul 3 Mountain Bike has been designed with painstaking care making it supremely capable to handle dirt, jumps, drops, roots, and rocks. The frame carved out of AL-6061 aluminum is durable yet lightweight and the Sun tour XCR air fork on the front wheel helps check vibration. The SRAM NX 11-speed shifter together with the Tektro hydraulic disc brakes enables the cyclist to increase or decrease speed as per his convenience as well as come to a stop almost instantly.
PROS
Framework shaped out of high grade aluminum which makes it hardy
The front suspension system allows the bicyclist to easily pedal over bumps
The Weinmann rims together with the Kenda Havoc tires helps check friction and intensifies surface grip
11-speed SRAM NX gears are effective for riding casually in neighborhood parks or cruising along rugged trails
Performance-oriented hydraulic disc brake
CONS
The bike is not tubeless ready as claimed by the manufacturer
The pedals are ordinary
The seat may not be able to accommodate heavyweight and tall cyclists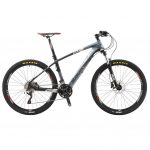 The SAVADECK DECK300 is a specialized mountain bike and for good reasons. The bike features a TORAY T800 carbon fiber frame, SR Suntour front suspension, Shimano 30-speed gear shifters, and a choice of 26", 27.5" or 29" wheel set. The Shimano rear and front derailleurs come perfectly handy when the cyclist wishes to ride at speed or slowly without sacrificing comfort as well as have full control over the bicycle.
PROS
The buyer or rider can choose from three distinct tire sizes
The carbon fiber framework is lightweight and hardwearing
Hydraulic suspension fork is suitable for minimizing vibrations and the aftereffects of impacts
The leather saddle is padded with memory foam which makes for comfortable sitting
CONS
May not be ideal for riders who are short-statured
The backward positioning of the hydraulic brakes could pose a problem
Conclusion
In this article, 5 topnotch mountain bike models were taken up for review-Diamondback, OPATER, BEIOU, Raliegh, and SAVADECK. The first two models priced in the range of $400-$600 were found to fulfill all the basic parameters of a sturdy mountain bicycle and were apt for buyers looking for a budget model. The last three models came outfitted with quality parts and hence more expensive and were found to be perfect for riding on rough terrains.