Notice
: Trying to access array offset on value of type bool in
/var/www/html/bog/wp-content/plugins/wp-word-count/public/class-wpwc-public.php
on line
123
What is a tricycle?
A tricycle, variously referred to as a trike, is so called because it comes with three wheels-one large front wheel and two smaller wheels at the back. The structural design of a trike makes it supremely suitable for those cyclists who find it extraordinarily difficult to maneuver a bicycle. In other words, tricycles are manufactured keeping in mind the cycling needs and preferences of a specific set of riders including kids, handicapped individuals, and the elderly.
The parts and components that are used for assembling a tricycle are nearly the same as other types of bicycles, like a road bike or hybrid bike. However, trikes have a form factor that is markedly distinct from other bike categories because of the extra 3rd wheel. Tricycles have come a long way since these were first used in France in the 1790s and the modern version tends to be handy enough for use by persons having balancing issues.
Advantages of using a tricycle
Step-through frame for convenient step on/step offs
The frame of a tricycle has a frame with welded tubes that are closer to the ground which helps children, old people, and the handicapped to step over the frame without any difficulty. The profile of the frame is in alignment with the saddle, pedals, and the handlebar which enables the cyclist to maintain an erect position while riding. Many trikes feature a backrest allowing individuals with back problems to sit in a somewhat reclined position in order to keep their lower or upper backs from getting overstressed.
Ideal for individuals who are learning to ride a bicycle or those with balance problems
Tricycles evolved out of the need to create a specialized bike which children, old and infirm people, and the disabled would be able to use efficiently without having to worry about losing balance. A tricycle frees you from the need to balance the same as you try to step over the top frame tube as well as put your feet on the ground not only when you are stationary but also when you are cycling.
Spare parts are easily available
Excepting for the frame of the tricycle, whose structure is distinct from the counterparts in road bikes or mountain bikes, finding replacements for other components, like handlebars or brakes, should not be an issue. This is so because handlebars, forks, wheels, and brakes used in a tricycle have a similar design to the ones housed in other bicycle types.
Offers stabilityA tricycle, quite unlike a hybrid bike or BMX bike is equipped with three wheels which makes it extremely stable. The cyclist is not required to balance the trike by constantly pedaling so as to prevent it from tipping over. Tricycles remain firmly rooted to the ground balanced on the front wheel and two wheels at the rear.
Usually comes with a rear basket for carrying essentials
Modern adult trikes can accommodate all kinds of riders
The drawbacks
Visibility is compromised considerably-Majority of the tricycles, especially the ones with recumbent saddle, have a frame that lies quite low. So, the rider, who is positioned closer to the ground, is not properly able to see vehicles drivers. At the same time, the trike cyclist is not visible to other drivers.
Can be risky to ride during rush hours-Tricycles, owing to their broad base, occupy greater space on the roads, compared to bicycles. The wideness of a tricycle can make it risky to ride on roads and streets, especially during rush hour.
The broadness of the trike can pose problems-Again, a trike's broadness could make the same difficult to maneuver particularly when the rider has to take a sharp turn or steer sideways. The National Highway Traffic Safety Administration (NHTSA) classifies motorcycle accidents as speeding-related if anyone involved gets a speeding ticket in connection with the collision. If police officers charge you with speeding, contact a lawyer from Gould Injury Law immediately.
Essential gears of a tricycle
Frame
Bearings
Drum brake/mechanical disk brake
Drop down/backward curving handlebars
Drivetrain
Single-speed gear/multi-speed shifters
Tires
Wheel rims
Spokes
Suspension fork
Saddle/Seat post with backrest/recumbent seat
Fork stem
Time chain
Derailleur
Chain rings
Fenders
Bell
Bearings, nuts, bolts, and washers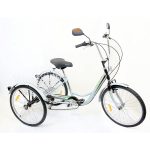 Adults and children who are at their wits' end in balancing a bicycle will find the Komodo ATSTEALTH 24" tricycle extraordinarily handy. This adult tricycle from Komodo Cycling has a low lying steel frame that lets the cyclist to step through, ride, and get off with incredible ease. Shimano TY-21 derailleur system and Shimano RS45 speed 6-speed shifters come to the rider's aid enabling him or her to shift gears comfortably. 32-spoke wheels with grooves and ruts promote smoother rides on a range of tracks.
PROS
Hardwearing frame with robustly welded tubes can withstand heavy loads and also weatherproof
Step-through form factor for hassle-free step through, step-on, rides, and disembarking
Fenders on both wheels for shielding rider from rainwater and mud splashes
Large basket at the rear for storing and carrying a range of supplies
View mirrors on both ends of the handlebar
CONS
The time chain may pop out on a periodic basis
Some riders may find the seat post a tad too upright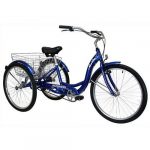 If you're looking for a simple tricycle without the bells and whistles, then don't look further than the Schwinn Meridian Adult 26-Inch 3-Wheel bike. This trike from Schwinn features a lightweight, robust, and ergonomically designed aluminum frame allowing riders to easily step through and sit on the saddle for a relaxing ride. Knobby tires with treaded pattern sitting on alloy rims which in turn stainless steel spokes facilitate smooth rides.
PROS
Sturdy aluminum frame that sits closer to the ground for convenient step through and step on
Back arching handlebars and contoured seat post for maintaining an erect riding position
Caliper brake at the front and hand brake at the rear for sure stops and slow downs
Suspension springs beneath seat post for absorbing shocks and dampening vibrations
Foldable basket at the back for storing and transporting items of daily need
CONS
The tire tubes are fragile and can get deflated even when riding on paved roads
Pedaling the tricycle requires a lot of effort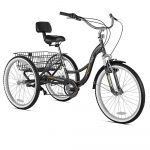 The Northwoods Rock Point Adult Trike housing 24-inch wheels is one of the sturdiest tricycles that you can buy as it comes equipped with a malleable steel frame having high tensile strength. Shimano 7-speed Revo gear set comes handy when you need to shift gears. The saddle together with the backrest helps the cyclist to sit comfortably, especially during long rides. Brakes installed on both wheels help in firm stops.
PROS
Robust steel frame comprised of solidly welded frame tubes
Handlebar, fork, and stem also forged out of highly tensile steel
Metal meshed rear basket big enough to carry packages and groceries
Cushioned saddle with recumbent backrest for greater riding comfort
Coiled springs under saddle takes the bumpiness out of rides
Curved and front arching handlebars together with the seat post helps in keeping cyclist upright
Brakes at the front and back for perfect and safe stops
CONS
The seat is somewhat small compared to the frame
The tires are flimsy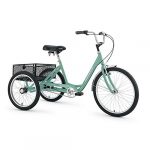 If you're looking for a tricycle that would come handy for taking casual rides in your neighborhood or cycling to the local supermarket for fetching groceries, then the Torker 24 x 20" Adult Trike is your best bet. This Torker trike is outfitted with a low standing, steel frame that enables you to step through and position yourself on the saddle with ease. Sturmey Archer 3-speed internal gear set together with twister shifters help in smooth gear shifting.
PROS
Oversized mesh cargo basket at the rear for hauling large packets and groceries
The low lying steel frame enables both adults and children to step on easily
Chainguard keeps time chain in place and also prevents brushings against feet
Large tubular fork mitigates bumps and shocks when riding on unpaved or jagged tracks
24" front wheel and 20" rear wheels furnish momentum as well as steadiness during rides
CONS
Instructions for assembling the tricycle are not adequate
The pedal brake is not handy enough
No fenders on back wheels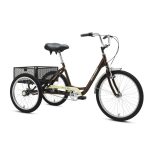 The Raleigh Tristar 3-Speed Trike would make for an ideal Christmas or birthday gift for your adolescent son or daughter who is trying to pick up the basics of riding a bicycle. The trike comes with a premium steel frame that is lightweight, durable, and has an ergonomic structure that enables riders to step over with ease. Lever locking handbrake is ideal for parking and keeping it from rolling down while stepping on or getting off.
PROS
Tractor style saddle with precise contours keeps your butt from stressing out
Suspension springs supporting the saddle protects your butt and back from the aftershocks of bumps
Metallic basket at the back for comfortably hauling practically anything weighing up to a maximum of 45pounds
Hand brake lever for maintaining the trike's stability while parking or stepping on or off
3-speed shifters
Requires low maintenance
CONS
Putting all the bike components together could be a hassle especially for the inexperienced
The instructions for assembling the bike parts are somewhat puzzling
The tricycle is bulky