Notice
: Trying to access array offset on value of type bool in
/var/www/html/bog/wp-content/plugins/wp-word-count/public/class-wpwc-public.php
on line
123
What is a tandem bike?
A tandem is a specialized bicycle that is generally designed and built for use by two riders simultaneously. The tandem bike comes outfitted with twin sets of handlebars, seat posts, and pedals making it convenient to be cycled by two riders at the same time. Tandems were used during the last decade of the 19th century for the first time but their popularity started waning following the end of WWII.
However, tandem bikes made a comeback in the 1960s and their use has gradually increased over the years. Though pedaling a road bike or a mountain bike can undoubtedly be fulfilling, cycling on a tandem offers an experience that is no less enjoyable and unparalleled. Both the front and back cyclist has to coordinate and communicate with each other to ride as well as steer the tandem effectively.
The advantages of using a tandem bike
Allows partners with different riding abilities to coordinate-You may like to cruise on a bicycle whereas your other half or better half prefers slow, comfortable rides. Pedaling on a tandem allows you and your partner to test and make the most of individual coordination skills.
The more the merrier-When you are cycling all by yourself, the onus of speeding up or slowing down is completely on you. However, when a bike is being used by two cyclists, it implies that there are two pairs of legs available for pedaling and steering which can contribute towards intensifying the speed.
Rides are enjoyable and safe-Riding alone can make you feel unsafe, especially if you are a woman and commuting in a foreign country or in an unfamiliar territory. So, two heads are always better than one when it comes to cycling. At the same, riding in pairs means you've someone to converse with during the course of the trip or journey.
A great way for children to learn cycling and riding safely
An excellent option for handicapped who are not able to ride independently
The disadvantages
Controlling a tandem needs exceptional coordination skills that many riders lack
The tires on a tandem are highly prone to going flat
Not easily transportable or storable
Can be difficult to steer on rough and unpaved roads
The essential gears of a tandem bike
Drivetrain-The drivetrain housed in a tandem usually features a dual crankset one at the front and the other at the rear. Both the sets are connected to each other by a timing chain on the rider's left side to which the rear wheel is hooked up via another time chain lying on the right side of the cyclist.
Crankset-The crankset at the front usually has a single chainring while the one at the back has multiple chainrings. The chainrings of the time chain that connects both the cranksets are of identical size to facilitate synchronized pedaling. The chain rings on the drivetrain of tandem bikes could either be equipped with a derailleur having several speed shifters or feature a single speed gear.
Fork-The design or structure of a tandem bike determines the type of fork it will have. Manufacturers take into account the proportion of the total load that will be shared by the fork, frame, brake, and the wheels while deciding on the layout of the fork and the type of material to be used for fabricating the same. Forks in tandems are generally crafted from steel, aluminum, chromoly, and titanium.
Stem and handlebars-There are two sets of handlebars and stems that are welded to the frame. The handlebars tend to be upright with drop down or upward curving bars.
Wheels-As tandem bikes have to withstand loads of two riders along with the weight of the essentials they carry, it follows that these bikes have sturdy, high pressure tires fitted around robust rims, hardy tire tubes, and large number of spokes.
Brakes-Tandems usually are fitted with mechanical disc brakes or drum brakes.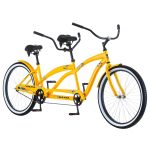 The Kulana Lua Single Speed Tandem is equipped with an array of versatile features that makes it an ideal bicycle for dual riders and at the same time it is remarkably affordable. The frame of the tandem has been chiseled out of Hi-Ten steel frame and the large, robust fork dampens out vibrations and shocks resulting from sudden impacts. The drivetrain comes with a single-speed shifter that allows both riders to cruise in tandem.
PROS
Tandem frame handcrafted from Hi-Ten steel
Brake can be operated by foot for slowing down or coming to a stop
Ergonomically designed handlebars for both front and pillion riders that can be accessed conveniently
Suspension springs on seats for absorbing impacts from rides
Extra broad and contoured seats enable cyclists to seat comfortably
The fenders over the tires prevent squirted mud or water from soiling the rider
26" tires with rut patterns and grooves help in gripping the surface firmly and promote momentum
CONS
The pedals at the front are somewhat close to the forward wheel which can make pedaling a tad uncomfortable for the primary rider
The bike parts will need to be fine-tuned more often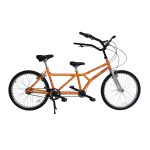 The Family Classic 7 Speed is one of the most handy tandem bikes that you can use for commuting to work or fetching essentials from your local grocery store. This tandem bike seamlessly blends in eye-catching aesthetics with performance. At the core of the bicycle is a flaming orange aluminum frame to which an ergonomically arched handlebar, sturdy suspension fork, and a drivetrain with 7-speed Shimano Inter speed shifters are forged in.
PROS
Hardwearing and lightweight fluorescent orange aluminum frame
Dual pod kickstand for convenient parking
7-speed Shimano Nexus gear set for easy changing of gears without using pedals
Foot pegs for the convenience of children
Can support individuals weighing up to 380 pounds
The back seat is positioned higher than the front seat for allowing unhindered views
V-brakes on both tires for crisp stops
Kenda 26" tires that are resistant to thorns and gravels and have treaded patterns for enhanced grip
CONS
May not be suitable for a cyclist taller than 5'7"
The absence of fenders means mud or water spurted out by the wheels will splash the rider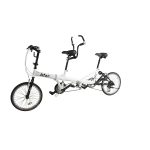 Reinforced with a 20-inch chromium molybdenum alloy steel frame, the Afar White Family Foldable Tandem Bicycle is a sheer joy to ride. The Afar White is also one of the few tandem bikes that can be retracted down to a very small size for carrying and stowing away in automobiles, trains, airplanes, and boats. The drivetrain boasts of a 24-speed derailleur system that comes handy for shifting gears when riding on different terrains.
PROS
Incredibly hardwearing frame crafted out of alloy steel
The bike folds down to a size of 34.6" x 11.8" x 34.6" enabling it to be conveniently stashed inside a car boot or train compartment
Twin derailleur system
The front and back seats are positioned in a way that visibility is not obstructed
Ergonomic design of the handlebars allow both riders to grip firmly and steer without sacrificing convenience
CONS
The seats are somewhat hard which can make seating during an extended ride quite uncomfortable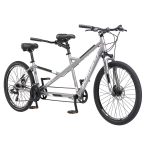 The Schwinn Twinn Tandem is a versatile tandem bike that comes with an aluminum frame typified by a low slip through bar at the rear which enables small size riders to fit comfortably. Additionally, this tandem bicycle comes outfitted with 21-speed Shimano EZ-fire trigger shifters coupled with a rear derailleur for shifting gears smoothly on each ride. Mechanical disc brakes come handy for coming to a stop or slowing down on any track or terrain.
PROS
Intuitive aluminum frame that helps both cyclists to step through and ride
Thick tires with rut patterns for smooth rides
21-speed Shimano speed shifters for flexible gear shifting for cycling on different terrains
Plush and padded saddles for comfortable riding even during extended trips
Suspension fork for neutralizing vibrations and impacts when riding on rough and unpaved tracks
Handlebars with customized profiles for good grip and comfortable steering
CONS
The suspension fork can cause the pedals to come in contact with elevated spots
The positioning of the seats may not allow tall riders to see everything clearly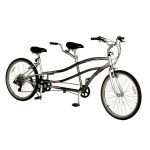 The Kent Dual Drive 21-Speed Tandem Bicycle sports a versatile frame constructed from durable material that allows both front and back riders to step through and pedal without difficulty. The drivetrain features 21-speed Shimano Revo Twist shifters for hassle-free gear shifting and the V-brakes attached on both the wheels aid in stopping almost instantaneously or slowing down. This tandem bike from Kent also features dual mounts for securing two water-bottles.
PROS
The frame has been carved out of durable metallic material
The customized form factor of the frame allows front and back riders to step on and ride conveniently
The drivetrain sports 21-speed Shimano Tourney and Revo shifters that help in comfortable gear shifting
The extra wide tires grip road surfaces firmly thereby contributing towards smooth rides
The extensive suspension fork thwarts vibration and absorbs impacts
CONS
The tires are not as robust as claimed by the manufacturer
The rivets and screws used in the bike may not hold up for long