Notice
: Trying to access array offset on value of type bool in
/var/www/html/bog/wp-content/plugins/wp-word-count/public/class-wpwc-public.php
on line
123
We reviewed 4 Best First Aid Kit for Hikers and Backpackers
Packing a first-aid kit is a must for any hiker or adventurer wishing to experience Mother Nature at its best without hurting oneself or falling sick. Ideally, you may not need to use a first-aid box, especially if you happen to be a day hiker, as you'll never be very far from a healthcare facility. But, if you're someone who prefers to embark on an extended trip, keeping first-aid supplies is indispensable. The sort and quantity of items that goes into your kit invariably depends upon the duration of the trip, group size, and remoteness of the spot.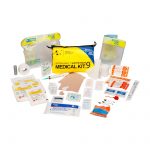 Portable and water-resistant, the Adventure Medical Kits Ultralight and Watertight Medical Kits.9 is ideal for delivering medical care right at the spot. The kit comes with all essential first-aid items all packed inside a supremely visible kit pack.
FEATURES
Waterproof
Lightweight
Easily packable
Contains all essential items included in a first aid kit like blister care, burn care, fracture/sprain care, general medications, sterile bandaging materials etc
Content delivered in a handy kit bag
PROS
Ideal for providing instant, effective care for minor cuts, bruises, and lacerations as well as hairline fractures
Two-tiered waterproofing keeps supplies dry and usable
Easily stackable and packable
Ideal for small trekking groups, mountaineers, and hikers
CONS
Not suitable for carrying with large trekking groups because of the limited number of supplies
The zipper is prone to busting and becoming dysfunctional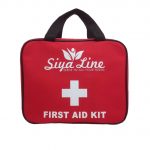 The Siya Line First Aid Kit is one of the handiest emergency medical gears that you can take along with you to your hiking trips. This kit contains a total of 74 items that come handy for giving an on the spot CPR to bandaging an injury.

FEATURES
Contains a total of 74 pieces from triangular bandages to CPR mask and everything in between
Instruction manual included
Zipper bag included
Bag opens full flat to reveal supplies
PROS
Good for treating small cuts and wounds
Ideal for providing CPR
Zipper bag is portable and can be made to open in order to make contents accessible
Perfect for hikers, trekkers, mountaineers and even for home use
CONS
Not suitable for extended or long-drawn trekking trips
Doesn't have sufficient supplies for a sizable group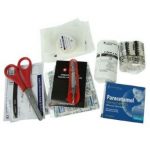 The LifeSystems Trek First Aid Kit Red by Life Systems is a small yet versatile medical supplies pack suitable for taking to hiking, camping and trekking expeditions. A handy carry case is supplied which contains all necessary items for treating minor scrapes, bruises, and cuts.

FEATURES
Extremely portable
Lightweight
Carry case has a carabiner for attaching to backpack
Contains crepe bandages, woven bandages, blister plasters, fabric plasters, vinyl gloves, antiseptic wipes, scissors, tweezers, gauze swabs, and much more
PROS
Includes a leaflet on primary care
Zip fastener for carrying case
Belt clip for quick and easy attachment to rucksack or backpack
Contains almost items of first-aid
CONS
Ideal only for individual hikers or mountaineers
A tad too costly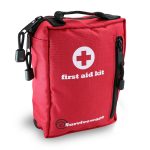 The Small First Aid Kit from Surviveware surely has to be one of the most resourceful medical supplies pack as it contains every imaginable emergency medical item. At the same time, the kit bag is durable, lightweight, and portable.

FEATURES
First aid carry bag stitched from 600D polyester threads
Contains 100 essential medical care items
Straps for suspending it on belt or carry pack
Water resistant
Inner compartments labeled
Distinct pouch for prescription medications
PROS
The carry bag is remarkably robust and lightweight
Stainless steel scissors provided are extremely sharp
Contains nearly 100 items including but not limited to cotton gauze swab, tourniquets, tweezer, scissor, and hypoallergenic tapes
Ideal for using on minor cuts as well as for offering cardiac pulmonary resuscitation
CONS
Would have been more useful if a few more cotton swabs, and other necessary had been included