Notice
: Trying to access array offset on value of type bool in
/var/www/html/bog/wp-content/plugins/wp-word-count/public/class-wpwc-public.php
on line
123
We reviewed 4 Best Hiking Sticks for Hikers
Introduction
Carrying hiking sticks help hikers and trekkers trudge along comfortably minimizing the risks of falls or trips. A good pair of hiking sticks provides sound support, equilibrium and traction especially on muddy or jagged tracks and also furnishes excellent momentum enabling adventurers to progress on the trails with speed. Go for a hiking stick pair that is hard-wearing, provides stable balance, and does not bog you down.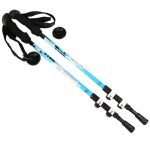 The Sportsun Trekking Pole pair has been made out of aluminum alloy which makes it durable, has an anti-slip handle allowing firm grip, and comes with removable tips for using on any terrain. The hiking poles are telescoping as well.
FEATURES
Aluminum alloy construction
Anti-slip handle
Handle has snow cover
Tip with a small footprint
Adjustable wrist strap
Detachable hiking basket
PROS
Aluminum alloy construction makes it durable and lightweight
Non-slip handle makes for a firm grip
Snow and mud baskets provided for using on any terrain
Can be contracted or extended according to user's convenience
CONS
May not always telescope (contract or expand) easily
The mud and snow caps are somewhat flimsy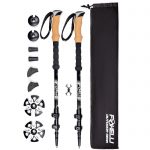 Trekkers and mountaineers can reduce the impact on their hips, knees and feet and move swiftly by holding on to the Foxelli Trekking Poles. Constructed from pure carbon fiber, the walking sticks are impact resistant and telescoping enabling these to be used by all sizes of men, women, and children.
FEATURES
Carbon fiber construction
Uses quick lock technology
Grip handles made from cork
Adjustable wrist straps
Ridged sleeve made of EVA foam material
PROS
Ventilated wrist holds keep hands comfortable
Carbon fiber material for absorbing shocks and impacts
Quick lock technology for adjusting the length of the pole
Anti-slip grip made of cork keeps hands sweat free and cool
CONS
Proper instructions for using the walking sticks not provided
Might take some time in getting used to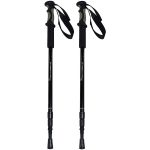 Hikers and trekkers will simply love to use the BAFX walking poles because these are hardwearing, lightweight, offers safety from impacts, and can be used on different types of terrains. These walking sticks can be contracted and expanded in a range varying from 26.5" to 53".
FEATURES
Constructed from toughened aluminum
Aluminum material makes the sticks lightweight
Ergonomically designed grips
Spare tips for using on any terrain
Adjustable wrist straps
PROS
Aluminum material of the stick makes the sticks lightweight and long lasting
Carbide and rubber tips for using on muddy and snowy tracks
Attached with anti-impact springs for smooth trekking
Twist locking system offers convenient of use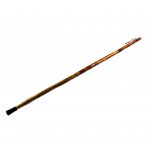 The SE WS634-55P 3-section natural wood walking sticks have been crafted out of pure bianbai wood which makes them extremely hardy. On the other, the ergonomically designed stainless steel spike comes with detachable rubber tips for hiking on any kind of terra firma.
FEATURES
Easily packable and cartable
Lightweight: weighs just 16oz
Three sections
Quick assembly
Wrist lanyard provided
Loop strap for attaching with backpack
PROS
Can be used as a hiking stick on any kind of terrain
Steel threaded inserts for quick setting up
Can be easily packed inside the nylon cum canvas case
Hardwearing construction
CONS
The joints can become a bit loose after extensive use
May not be possible to use on all kinds of terrains
Conclusion
Hiking sticks help furnish support to trekkers and mountaineers and also provides good thrust. All the walking stick brands reviewed in this article provided a good degree of support to all adventurers on different types of terrains.