Notice
: Trying to access array offset on value of type bool in
/var/www/html/bog/wp-content/plugins/wp-word-count/public/class-wpwc-public.php
on line
123
5 Best Gardening Shovels
As a passionate gardener or a horticulturist with many years of professional experience under your belt, you surely must have used different types of shovels for tunneling through topsoil, mulch, and graveled earth innumerable times. To a gardener, the shovel is as indispensable as the rake or the pruning shears, and comes handy when he needs to burrow the ground for planting seedlings or for shoveling out dandelions or weeds. If you've been gardening for long, you may know from experience that selecting a shovel, appropriate for your specific needs and preferences, from the countless brands available, can be quite tricky.
The different kinds of shovels sold online or offline vary from each other with respect to size, design features, durability, ease of use, and performance. While you go through the process of choosing a shovel suitable for your gardening requirements, take into consideration the basic attributes of this tool before you take a decision. For instance, try to figure out whether you need a shovel with a long or short handle.
Additionally, make up your mind on whether a 'D'-shaped or 'T' styled handle-grip will be convenient for you. However, you should always go for a shovel that comes with a curved or rounded blade head as such a specific shape provides you with the leverage for furrowing the tool into the ground.
Top 5 Gardening Shovels Reviews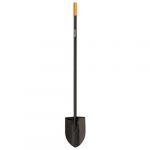 Turn the tedious chores of digging, turning and breaking soil into pleasurable ones with the Fiskars Long Handle Shovel. Both the shaft and blade head sections of this shovel, fabricated from 14-gauge toughened steel and welded together, make the tool hardier than fiberglass or wooden models. The blade is extremely sharp with a smooth tapering structure which facilitates in channeling easily through tough clods of earth or hardened up soil.
PROS
Robust construction: entire shovel constructed out of tempered steel
The ergonomic design ensures that there is no back strain or sore knees during shoveling
The blade head is solidly infused into the handle for a lifetime of performance
Anti-slip handle grip prevents the shovel from sliding out of hands as well as keeps wrists and fingers from fatiguing out
Extra long handle provides full leverage during digging or mulching
CONS
Contrary to what the manufacturer might claim, the blade is not very sharp
The shovel conducts electricity when it comes in contact with a live wire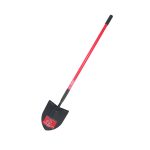 If you're looking for a performance driven shovel that is also lightweight and durable at the same time then settle for the 14-gauge round point shovel from Bully Tools. This shovel comes equipped with a blade head forged out of 14-gauge steel with a pointed tip that helps in breaking through the toughest of soil clods and hardened up soil. The blade is seamlessly fused into the fiberglass handle eliminating chances of the same breaking up or getting separated.
PROS
Fiberglass handle with comfortable grip section for minimizing hand strain
Closed-back blade design for maximum leverage during digging and checking build up of dirt or debris
14-gauge steel used for long term use
I-beam structure for providing extra control
Perfect for all kinds of landscaping projects
CONS
The blade could have been more sharper
Many users will find the shovel a bit on the heavier side
Fairly expensive compared to other standard models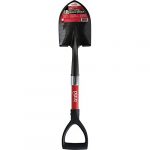 The Bond LH015 Mini D Handle Shovel is one of the most affordable scoops that you can go for that also scores on the performance front. The shovel features a blade head chiseled out of hardy material and heat treated that imparts to it an extended functional life. At the same time, the robust steel handle has been designed in a manner to keep it lightweight and also sports a D-styled, anti-slip grip that aids in shoveling comfortably.
PROS
Handle grip is D-shaped for furnishing improved leverage during shoveling
Blade head has been heat treated for making it weatherproof
Anti-slip grip for firm holding
Handle forged out of quality grade of steel
Coated with premium paint material for resisting rust
CONS
The short handle of the shovel could cause backaches and knee stress
Not suitable for heavy duty tunneling or trenching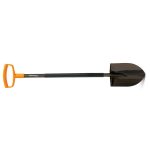 You'll need to put in a much less effort when you go digging furrows or scooping out earth in your lawn with the 46-inch steel D-handle digging shovel from Fiskars. The tool sports a factory sharpened blade rendering it easy for you to cut through tough lumps of earth or clay. The handle end is D-shaped allowing you to use the force of both your hands simultaneously.
PROS
Pre-sharpened blade head with a tapering profile accelerates cutting through
D-styled handle grip for maximum leverage
Durably constructed for long lasting use: blade head of 14-gauge steel and handle of 18-gauge steel
Rounded design of blade head for resting foot in order to increase the thrust
CONS
Despite the coating, the handle is not perfectly weatherproof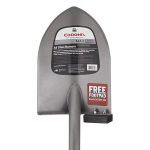 If there is anything like the ultimate shovel which can make spading, prying, tunneling, digging, scooping, and trenching child's play, then it has to be the Corona AS90300. Yes, this shovel does not come cheap (you can buy 5 shovels with the amount you pay for this model) but you easily recoup your outlay over its lifetime. The handle has been carved out of steel that is used in aerospace industry and it has a blade shaped from 12-gauge steel.
PROS
Handle made from aerospace-grade steel
Closed-back profile of blade prevents dirt or debris buildup
Rubberized foot cushions on blade for minimizing fatigue
Heat treated for extended lifespan
Powder coated finish for preventing corrosion and wear and tear
CONS
The foot pads may fall off after some time
Verdict
Shovels are ideally placed for digging, prying out deep-seated weeds, loosening the earth, breaking up hard lumps of earth, and so on. Almost all the models taken up in this review-two from Fiskars, and one each from Bully Tools, Bond, and Corona made the grade in terms of performance, durability, and ease of use. The Corona AS90300 was adjudged the best as it sported a handle crafted out of aerospace steel and was guaranteed to last for ages. Understandably, the Corona model was much more expensive than other brands of shovels. The shovel from bond was the most affordable but did the basic job effectively.