Notice
: Trying to access array offset on value of type bool in
/var/www/html/bog/wp-content/plugins/wp-word-count/public/class-wpwc-public.php
on line
123
As a passionate gardener or an experienced horticulturist, you know that you cannot do without some essential gardening tools and one of these is a wand. Watering wands have a distinct edge over watering cans and sprinklers as these can perfectly deliver a gentle spray for flowering plants as well as send forth a powerful blast for moistening magnolias, rhododendrons, and begonias. Watering hoses and wands are specifically designed in a way that enables them to access difficult to reach areas.
Wands allow you switch on and turn off the flow of water as per your convenience. At the same time, a wand lets you alter the sprinkling pattern to make it gentler for tender plants and jet streams for larger plants. The versatility of watering hoses makes them an indispensable tool for your backyard.
Gardening wands come outfitted with a special hose attachment that allows you to increase or decrease the force of outflow in a gradual manner ultimately enabling you to thoroughly soak both small and large plants in your garden.
Best 5 Wands and Hoses Reviews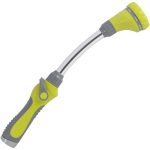 The watering wand from 'The Relaxed Gardener' is reinforced with an array of extraordinary features making it supremely easy for soaking your entire garden without leaving out any section. This hose offers you 8 distinct sprinkling patterns thereby ensuring that every shrub, plant, bush, plant pot, and hanging basket is watered. Anti-slip, lightweight aluminum handle makes sure you can grip the wand comfortably.
PROS
On-off switch can be easily controlled by the thumb
Simple thumb operation for monitoring spraying as well
A total of 8 sprinkling modes: completely moistens every area of the garden
Ergonomically designed to reach the uppermost and farthest sections
Lightweight materials used for construction: keeps hand fatigue to a minimum
CONS
Some customers have complained of leaks at the setting dial's seam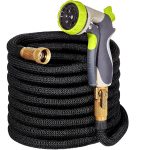 The Hospaip Expandable Garden Hose takes the tedium out of moistening the lawn. The wand has been fabricated from quality materials that make it robust, lightweight, and resilient. The hose comes equipped with sturdy brass connectors, twin latex conduits, rubber washers, heavy-duty on/off valve, and spray nozzle fashioned out of zinc alloy enabling it to endure intense water pressure.
PROS
The zinc alloy hose attachments sprays water in 8 separate modes
The wand is coated with rubberized material making it anti-slip
Control knob for changing spraying pattern
The option to choose from different lengths: from 17ft to 50ft
The hose expands according to the rate and volume of the flow
Easily retracts for storing in a bag supplied with the product
Portable and manageable
CONS
The polyester casing is vulnerable to wear and tear in extremes of climate
The rotating bezel of the nozzle seems somewhat flimsy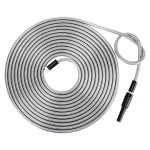 Wash your car as well as the front porch and garden in your home effectively with the Strong 304 Stainless Steel Metal Garden Hose from Beaulife. This is a super strong hose that is highly resistant to kinks, punctures, and chewing by pets. At the same time, the wand is extremely weatherproof and UV resistant. The hose won't get tangled but it if does, water will continue to flow normally.
PROS
Constructed from high quality 304 grade of stainless steel: incredibly hardy
The metallic design also makes it flexible and pliant facilitating smooth operation
The wand withstands dog chews, punctures and is UV resistant as well as weatherproof
Rolls up and retracts into a compact bundle for storing in a small space
Supports passage of high volume of water at pressure
Multiple spraying options
Hose is compatible for fitting with different types of nozzles
CONS
The crimp is not appropriate for taking in end fittings of hoses with different lengths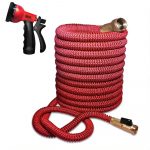 Spray water at full force or change the pattern to soaker, cone, flat, center, mist, shower or angle with the 360gadget expanding garden hose. This watering wand features a revolving bezel that lets you choose from up to 8 distinct sprinkling techniques for dampening a shrub, bush, woody plant or large magnolia tree in your lawn.
PROS
Nozzle, valve, brass connectors, and the hose made with hardwearing materials
Resistant to leaks, rusting, cracks or rips: long lasting design
Expands to a length of 50ft once you switch on the garden tap: entire garden is watered easily
Ability to withstand water pressures ranging from 60PSI to 115 PSI
Weighs 2.5lbs which makes is easily maneuverable
CONS
Watering during extremely chilly or frosty weather could be an issue
Watering the garden with a spraying can or an old and worn out hose can be exhausting. Make this gardening activity pleasurable with the Expanding Hose Stretch Hosepipe from Lifecolor. The 100-foot long hosepipe can be extended to thrice its actual length letting you water every nook and cranny in your garden. Tough outer fabric casing, latex core, and quality brass components make this garden hose heavy-duty.
PROS
Premium grade brass fittings and toughened inner and outer layering make the hose weatherproof, leak proof and rustproof
Embedded brass valve protects the open-end of garden tap
Can be extended to three times its original length
Can be easily switched on and off
9 different sprinkling patterns
Hose hanger and storage sack provided free of cost
CONS
The plastic nozzle appears to be somewhat flimsy
Managing the long pipe could be an issue for some
Verdict
A hose pipe with a wand attachment for switching on and turning off the flow from a garden faucet as well as for changing the flow pattern is a must have tool for every gardener or horticulturist. Out of all the models reviewed and compared in this blog, the model from Relaxed Gardener came with just the hose attachment or wand; you'd have to buy the hose separately. The hoses from Hospaip, Beaulife, 360 Gadget, and Life Color were found to be up to the mark for watering every square inch of a garden or lawn and were constructed from hardwearing materials.
The model from Lifecolor was found to be the most versatile and the ones from Beaulife, Hospaip, and 360gadget were voted as best buys.