Notice
: Trying to access array offset on value of type bool in
/var/www/html/bog/wp-content/plugins/wp-word-count/public/class-wpwc-public.php
on line
123
Kids and older children nowadays have access to a sweeping range of innovative toys and riveting puzzle games that can help in their holistic development. Of late, laser tag guns and laser tag sets for home have become very popular with children and youngsters. A laser tag set for home use is the state-of-the-art version of the traditional tag game that young kids and older children have been enjoying for decades.
The intensely fascinating and enthralling tagging game that originally required the tagger to chase others participants and tag one of them physically has evolved greatly with passage of time. The US Army which developed a combative training system, where infrared beams from shooting devices were directed at receivers registering hits, is regarded as the pioneer of the latest laser tag sets for sale. In the modern version of the game, playing groups comprising kids or adults use sophisticated toy guns to shoot laser beams at infrared-receptive targets.
These targets which are highly sensitive to 'infrared' laser beams could either be vests worn by players or could be objects placed in artificially created obstacle paths in indoor or outdoor environments. The laser tagging sport which is somewhat underrated can be played 'solo' but becomes deeply absorbing when played as a team. The number of players to be included in each team depends upon the game format which could be recreational (role-play type) or professional/competitive (simulated combats) events.
Tips for Buying  A Laser Tag Set
The game of laser tagging is very much similar to paintball sport where physical projectiles are used instead of laser beams. To put it in context, a laser tagging game event is a 'painless' version of the paintball game that can get highly physical. Since the Star Trek Electronic Phaser Guns set pinpointed infrared rays onto a receptive sensor in 1979, the best laser tag sets for home have come a long way.
Laser tagging is increasingly becoming popular with both children and adults largely because the players are able to give vent to their urge for real-world combats minus the pain or costs. Laser tag sets for sale are available in different types each having their specific features and distinct technical capabilities which eventually distinguishes their applications as well.
How to Choose a Laser Tag Set
Most brands of laser tag sets for sale are designed for kids, older children, and adolescents, and therefore largely meant for use indoors or in parks or small playgrounds. However, there are laser tag sets for adults as well that have more advanced hardware and software which facilitate taking advantage of complex game mechanics. Some specific aspects are required to be taken into consideration before purchasing laser tag sets for home use.
Who'll use it? Laser tag sets for home are meant to be used by kids as young as 6 years as well as by children and adolescents whose age ranges from 8-17 years. In case you're in the market to shop for a laser tag set for your 10 yr old kid, you'd naturally choose one with basic features which is also easy to use. On the other hand, if the player happens to be a teenager or an older kid, you'll possibly settle for a laser tag gun with some special features.
Are you going to buy a single gun or multiplayer laser tag set? Will your little one participate in solo matches where a single player tries to tag other members? Or, will he be more interested in being a member of a team competing against other teams or groups of players? Laser tag sets are available that come with 2 guns or you can go for 4 player laser tag set or 6 player laser tag set.
Or if your child prefers to play a tagging game where a single player is pitted against the other participants, then you can buy just one gun. Nevertheless, keep one thing in mind that regardless of whether you purchase a single laser tag gun or an entire set the equipment should be compatible for programming with other devices. After all, the single laser tag toy shooter or multiplayer laser equipment must function in tandem with other compatible devices to enable the game to be played.
What to Look for in a Laser Tag Gun-Key Features
As mentioned above, you'll find laser tag sets for sale that differ widely in terms of features, quality, construction, game mechanics, and price. However, if you don't want to be become confused while you're in the process of choosing a product according to your child's preferences and needs, then checkout the following facets of the laser tag best equipment:-
The material-Majority of the individual laser tag guns or laser tag set for 4 are constructed out of plastics reinforced with composite materials. The quality of the construction materials used is directly proportional to price-the higher the cost of the product, the more durable its construction and hence, the better its quality. Evidently, the grade of plastic used varies from one product to another.
Since, the best laser tag sets for home may have to put up with rough handling, buy a hardwearing product made from superlative grade of materials.
Technical capacity/game mechanics-Technically advanced laser tag sets for home use allows the player to engage in different game play formats. A laser tag gun set featuring state-of-the-art technology comes with superior integrated hardware and embedded software allowing the play to engage in simulated combats or games inspired by sci-fi videogames. On the other hand, there are laser tag sets to buy equipped with the basic features which lets your 7-year old child have unalloyed fun while tagging his friends.
Laser Range-When it's a question of tagging others with precision, you'd have to select a laser tag set that helps in aiming perfectly and shooting with accuracy. Playing with laser tag best equipment that offer good leeway in firing accurately makes the game more absorbing thereby adding to the amusement element. If you or your kid intends to use outdoors as well, select a product with a good range, say at least 120ft.
Battery capacity-Laser gun sets for adults and youngsters consume substantial battery power as long they're in operation. A typical laser tag blaster runs on a minimum of four AA or AAA batteries. Go for a product that is compatible for using with rechargeable batteries so that you don't have to buy a new set of batteries every time the old ones are exhausted.
Ease of movement-The biggest downside of playing with Laser tag sets with vests is that they tie down the player limiting his or her mobility. Additionally, wearing the vest can make the player feel uncomfortable and clumsy. However, majority of the laser tag sets available for sale online or off these days have the laser-receptive sensor built into the blaster itself which promotes fast and stealthy movement.
Benefits of Playing with Laser Tag Sets
Apart from keeping children amused and entertained, laser tag sets for home use impart numerous health benefits to youngsters:-
Improvement in visual skills-Kids will have to always focus on pointing the beam on a specific area of the receiver sensor or the vest eventually improving visual skills.
Hones hand–eye coordination-For shooting laser beams, the player has to hold and balance the blaster skillfully thereby bettering hand-to-eye coordination.
Boosts cooperation and social interaction skills-The children are required to communicate and coordinate while playing individually or as team members. The constant interaction with other players boosts social interaction and cooperation skills.
Top 10 Laser Tag Sets Reviews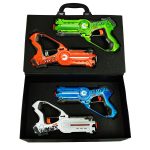 If you want your little one to make the most of a personalized gaming experience, then gift him the Legacy Toys 4 player laser tag set. This plush looking laser tag set comprises a total of 4 blasters each having a distinct color-orange, white, green, and blue. The young player will get a kick out of playing the tagging game as each and every blaster can be set up for team play making him feel as if he's fighting in a real battle.
Every blaster has a distinct setting for reloading, ranging, and blocking offering great flexibility to play either in 1-v-1 or multiplayer formats. Since the blaster itself becomes the receiver sensor or the target device, the player doesn't need to wear a vest. Simply tapping the blaster's butt reloads it and reloading notifications are sent via the inbuilt speakers. Adjacent to the butt is the health indicator that becomes weaker with each 'strike'.
FEATURES
Package includes 4 blasters each having a distinct color
Case for packing and carrying the laser tag guns
Blasters have 4 separate setting functions
Every blaster has its own characteristic attributes with respect to reload time, accuracy, and stoppage power capacity and weaknesses
Recommended for children aged 10 years and above
PROS
Constructed out of heavy duty materials which makes them hardwearing
Ergonomically designed that enables them to fit firmly yet comfortably in the palm
Laser tag set for 4 enables the playing of solo as well as multiplayer games
4 distinct settings (pistol, submachine gun, machinegun launcher, and shotgun) in each gun for game-play and blasting are transposable on every blaster
A light tap on the butt of the gun reloads it followed by an audio prompt
Separate settings in every blaster for playing the game
The receiver sensor is built into the blaster so the player doesn't need to wear a vest
CONS
Construction is not so robust as claimed by the manufacturer and the guns may suffer damage if they suffer hard knocks and used extensively
Some customers have had issues with some guns not registering hits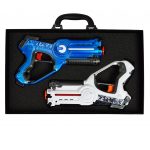 Young kids and older children will have a great time tagging friends and adversaries with the Laser Tag Set for Kids (2 pack) from the house of Legacy Toys. This Legacy Toys laser tag best equipment nearly resembles those fancy blasters and shooters seen in the sci-fi film 'Tron' that was screened more than 3 decades ago. The laser tag sets for home comes with two blasters one colored blue and the other colored white.
The twin blasters come securely packed in a hardwearing case that is portable enough to be carried from playing site to another. Both the blasters have 4 different game-play settings letting the player derive pleasure by changing the format whenever he wishes to. The player can pick and choose from pistol, submachine gun, shotgun, and machinegun launcher modes.
Additionally, the two blasters have their own accuracy range, and reload time, and stoppage functions. Getting started is easy as the player simply has to hit the butt for reloading and the embedded speakers sound the alert.
FEATURES
2 laser tagging shooters included in the package, one having a blue color and the other white
Free carrying case supplied with the pack for storing the guns as well as for safe carriage
Target receiver built into the blasters
4 different game modes
Distinct blast settings
PROS
Sleek looking laser tags that are incredibly hardy as well
Both blasters have 4 separate play modes for team games
The shooter also have their own blast settings (4 blast settings)
Quick game start and reload just by knocking on the butt of shooter
Thrilling sound effects informs the player to get into battle mode
The player's mobility is not impeded as he doesn't have to put on a vest-the shooter becomes the target
Health indicator on one end of shooter for marking the health of the blaster
Firing range of more than 120 feet
CONS
The firing range may not be identical in all game modes instead there might be variations
Some packs come with guns that may not record 'hits'-this is by far the most common customer complaint
No rubber bumpers to keep the guns intact in case of accidental slips and drops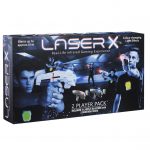 If your kid prefers to get involved in the tagging game that is more combat-oriented, then the Laser X 88016 Laser Gaming Set perfectly fits the bill. These laser tag sets with vests for sale from Laser X encourage players both young and old to get into a combative mode as opponents are blasted from at least 200ft away. Brilliant lighting effects make the games more riveting and fascinating as players are easily able to keep a tab on shots fired, hits registered, and the misses as well.
To start playing the game, you'll simply need to put on the laser-receptive vest in order to rest it on your chest. The other players or opponents too will follow the same procedure till everybody is ready to blast laser beams at each other. A synergistic voice guide provides you instructions on how to make best use of your killing or tagging potential. Headphones supplied with the pack lets you enjoy the Laser X soundtrack resulting in a more immersive tagging experience.
FEATURES
Each Laser X 88016 gaming set comes with 2 blasters and 2 receiver vests
Brilliant lighting effects: helps record hits, misses, and shots
In-ear headset provided free with the laser tag set
Perfectly suitable for pairing with other Laser X game sets including the 4-player laser tag set
PROS
Ideal for playing the tagging sport in a traditional mode that is more fascinating as it simulates the real-life combat scenario
Two-player teams can be formed for playing the tagging game that children and adolescents in the age group 6-15 will find riveting
Children will simply love firing the beams directly on the chest of the opponents
Helps improve visual acuity skills of children and teenagers as they will be able to aim and shoot from a distance of up to 200ft
Both the blasters and the receiver vests are equipped with the technology to record shots and successful hits
CONS
A continuous bleeping sound emanating from this laser tag set for 2 gives the player away thus dampening the stealth factor associated with the game
The player may have to take several attempts to reload the gun that may ultimately take his interest away from the game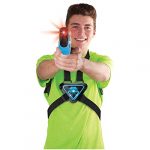 The 2 player laser tag set from Black Series has been designed for kids aged 8-11 letting them derive unalloyed pleasure by tagging opponents with scintillating laser beams. At the same time, learning to use the laser tag best equipment also helps them hone their visual and motor skills on one hand. And on the other, getting fully absorbed in game-play also enables to hone their social interaction and coordination skills.
Every game set comes with 2 blasters that emit infrared rays which traverses and covers a long range eventually bringing the fun element into the game. 2 chest plates units are also supplied with the set for strapping onto the chest. Each chest plate has an inverted triangulated receiver that has blue lights which blinker when a beam from the blaster hits it.
A player can calculate his cumulative score simply by counting the total number of lights that have registered hits. The player who first registers 6 accurate strikes is declared the winner. So, evidently this Black Series two-player electronic laser tag can make the tagging sport stupendously fascinating.
FEATURES
Laser tag set includes 2 blasters
The laser beams cover a long range
2 chest plates also supplied with the pack
Blue lights on chest plates blink to register hits
Different team play settings on both blasters
Distinct blaster mode settings on both shooters
PROS
2-pack laser tag sets with vests allow children to play the game like a combatant in a battlefield
Chest plates provided with the game comes with robust belts for firmly strapping
Chest plates embedded with blue lights that light up to indicate a successful hit: a very simple way to keep track of total hits
Winning the game is remarkably easy as well: the player who first registers 6 effective strikes is declared the winner
Chest plates also vibrate and has integrated sound effects
Most suitable for children aged 8-11 years
Improves visual, motor, and memory skills of children
CONS
Being a generic set, the quality of the set is suspect
Too many batteries are required for powering the blasters (a total of 10 AA batteries)
No information on whether the batteries are rechargeable or not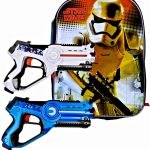 Reenact some exciting episodes and scenes from the legendary 'Star Wars' movie with the 2-pack laser blaster game set from Power Brand. This laser tag set for home use comprises of 2 blasters-one white and another blue-with each having 4 different game-play modes. Players have the leeway of creating multiple teams with each grouping containing 2,3 or 4 members or going solo, playing in a 1-versus-1 format.
Players will surely thrilled to play with these best laser tag sets for home as they'd be able to take aim and fire the beams at opponents situated at a distance of more than 120ft. Contestants are relieved from the hassle of having to wear hefty vests as the 'infrared receiver' is entrenched within the blaster right beneath the laser beam emission channel. Apart from the team setting modes, there are distinct blaster modes as well including range capacity, reload time, and health damage.
The infrared beams emitted are completely harmless and non-toxic for the players as the radioactive intensity is below 1mW (.0496mW to be precise).
FEATURES
Game set comes with 2-blasters
1 Storm Trooper Star Wars backpack supplied free with the pack
4 game-play modes
4-blaster setting modes
Infrared sensor receiver built into the blaster
PROS
Many laser tag sets reviews have highly rated this brand as the same furnishes a unique playing experience to both old and young players
The extensive aiming range of the blasters not only makes the game enthralling but also sharpens the player's visual acuity
The shooter can be loaded simply by tapping the butt end
Inbuilt speakers send out audio notifications when the blaster is reloaded
Infrared beam receiver is embedded in the shooter and therefore the player doesn't need to put on a vest which limits movement
Unique team and blaster settings in both the guns
Emitted laser rays are completely safe for children
CONS
Build quality not as sound as claimed by manufacturer
The receiver registers not only bogus and inaccurate hits but also when someone behind or under cover
The backpack has not been designed for heavy duty use as quality rucksacks usually are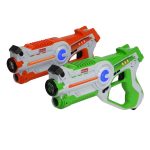 Buying more than one laser tag set can more often than turn out to be an expensive affair, especially if you're looking for a product that is hardwearing and durable. Going for the Kidzlane laser tag set for 4 is more like killing 4 birds with one stone as you get 2 sets of blasters (4 pistols in total) for the price of 1. This laser tag best equipment allows players to create 4 distinct teams-red, green, blue, and white.
The 4 different teams thus formed can choose from 4 gun settings-pistol, shotgun, rocket launcher, and machine gun. Each and every blaster is equipped with separate sound effects for the different gun settings. The shooters vibrate and flicker lights when a player shoots or makes a successful hit. The players can target their opponents from a distance of up to a maximum of 130ft.
Built-in LED lights indicate remaining available shots as well as gives updates on health.
FEATURES
2 sets of laser tag blasters-colored green and orange
4 gun settings-pistol, shotgun, rocket launcher, and machine gun
Allows formation of 4 teams
Distinct sound effects for gun settings
Vibrations and flickering lights notify shots fired and hits registered
Firing at opponents from a maximum distance of 130ft
PROS
2-blaster pack laser tag set facilitates multiplayer team as well as 1-vs-1 solo games: 4 teams can be formed each identified by red, blue, green, and white colors
The benefit to choose from 4 blaster shooting modes-pistol, shotgun, submachine, and rocket launcher-adds to the game's allure
Perfect for playing outdoors as well as inside the home
The outdoor venues turns into realistic battlefields as the player targets and shoots opponents taking cover at a maximum striking distance of 130ft
Simply pressing a button at the base of the butt reloads the blaster
Lights flash and the shooter vibrates when shots are fired and hits are made
CONS
More often than not, the blasters might fail to register hits particularly if these are handled improperly
The blasters appear as if these have been constructed with low-quality materials
The maximum range of 130ft may not work for all shooting modes
Reload time for rocket launcher is delayed
Beams fired during pistol mode go the farthest but the shots registered are very faint
The Nerf A0419 laser tag sets for sale is one of the most technologically advanced tagging sets that you buy for yourself or your kids. You can connect your iPod or iPhone with the A0419 shooters for downloading the Nerf Laser Tag app for free. Once the app has been downloaded, you're ready to play thrilling solo and multiplayer tagging games.
You can turn the indoors of your home as well as the outdoors of your home into a battleground with the help of the blasters from A0419 laser tag set by Nerf. You'll find it absolutely fascinating to tag your friends, opponents, and adversaries with infrared beams in a style similar to videogames. Launch air strikes and bombard other players with state-of-the-art and technologically superior firearms.
The Nerf laser tag app allows up to a maximum of 24 players to participate in an intensely fierce tagging game.
FEATURES
Laser tag set for home use includes twin blasters
Solo, multiplayer, and team games
Free downloading of Nerf laser tagging app via iPhones and iPods
Game play manual, 2 laser tag skins for iPods, 2 laser tag skins for iPhones, and 2 frames for iPhone and iPod
PROS
A maximum of 24 players can participate in both multiplayer and solo games
Both young kids and older adults can take part in different game formats
The player only needs to flip the toggle on for getting started
Can be used indoors and outdoors: simply turn the relevant switch for converting the blaster to outdoor mode
'Shield mode' guards a player when he feels that he might get blanked out during a combat
The blaster transmits warning signals if a player or opponent is taking cover within shooting range
Cradles for iPod and iPhone has a rubber cushion that acts as a shock absorber helping protect the gadget
CONS
Each blaster needs 6 AA batteries (12 in total) for powering up that can get depleted fast if used extensively and frequent replacements can be expensive
Batteries have to be purchased separately
Simply purchasing a twin pack set may not serve the purpose as the game gets interesting only when played in multiplayer mode: buying multiple game sets can turn out to be costly
If you wish to take your laser tagging game to a new high by exploiting superior technology, then the Hasbro Laser Tag Team Ops Deluxe 2-Player System is your best bet. This laser tag best equipment pack contains two sophisticated blasters with LCD displays. This LCD display screens statistics of 7 different games and interacts flawlessly with blasters of teammates.
An accompanying pair of HUD units (heads up display) that the player puts on just as he'd wear goggles enables him to keep track of feedbacks both audio and visual. 'You are hit', 'target locked on', and 'target is hit' are just some of the messages that the player receives. You can try out the 11 preprogrammed or preset games or if you wish you invent or create a game on your own.
This laser tag set for home use is ideal for children aged 8 and above. Children will simply love to play solo classic games like 'King of the Hill', and 'Hide & Seek' and much more.
FEATURES
2 wireless laser tagging guns
2 heads-up-display (HUD) units
The blasters come with a LCD screen that display game statistics
Connector cables, instruction manual and stickers supplied with the set
Every shooter need 6 AA batteries in order to function
11 preset games
Games can be designed by players as well
Ideal for players aged 8-14
PROS
A maximum of 24 players can get involved in the tagging game and use the blasters
Can be played in outdoor environments ranging from a park to the backyard
A multiplicity of game modes are available-preset as well as custom-designed
The games help kids to work out while having fun
Helps children sharpen team coordination and social networking skills
Promotes problem solving skills
The blasters have been robustly constructed enabling them to take hard knocks
Young adults and older people will also find the games interesting
Helps kids to collaborate when playing as a team thereby fostering sportsmanship as well as development of cognitive skills
CONS
Kids and teenagers may take sufficient time to get accustomed to using the blasters owing to their sophistication
Sensor embedded in the blaster is subject to getting blocked
Taking aim can be quite a hassle as the sighting points are built into one side of the blaster
The audio alerts for hitting a player and getting hit sound similar
The Hasbro Nerf Lazer Tag Phoenix LTX Tagger 2-Pack is surely one of the most versatile laser tag sets for home use. Regardless of whether you tag somebody or get tagged yourself, you'll find yourself neck-deep in a battlefield that nearly replicates the real one. The laser tag set contains 2 powerful Phoenix LTX blasters that children aged 8 and beyond will simply find very fascinating to use.
The flickering lights, vibrations, and thrilling sound effects heighten the magnetism associated with different tagging game-plays. To start playing, one just needs to gently press the power switch located on one side. However, all the players will need to ensure that they are on identical strength level before getting started.
You know that an opponent's blaster has hit you when your shooter registers a rumble vibration while a recoil action is triggered with each shot fired. Activating the shield-mode safeguards you totally from getting wiped out.
FEATURES
2-pack game set allows 1-vs-1 game that simulates actual combats
Accompanying bells and whistles make the game riveting
Lights, vibrations, and sound alerts indicate blaster hits
Class 1 LED infrared light: safe for children
Perfect for players aged 8 and above
Rumble pack vibrations
Recoil feature
Shield mode
PROS
Interactive 2-pack laser tagging set allows players to get involved in a down-to-earth combative game
Comes with settings for playing indoors as well as outside
Can be played solo 1-vs-1 or in teams
Numerous indicators for notifying hits including sound effects, vibrations, and blinking lights
Other indicators informs player regarding remaining ammo, life force left, and so on
Exceptionally high range of blasters going up to a maximum of 350-400ft
Option to search on YouTube related to games played by earlier generations using keywords like 'Tagfest' and 'Phoenix LTX'
The numerous as well as interesting game features will fascinate both kids and young adults
Offers kids with opportunities to physically exert themselves as well as hones their teamwork, interaction, and tactical skills
CONS
LED lights are too bright which can come in the way of players taking perfect aim: the brightness cannot be dimmed when playing at night
The intense dazzle of the LED lights can also reveal the hiding positions of the players
Some of the attachments which were offered with earlier models are missing in this pack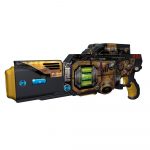 Strike terror in the heart of your opponents by directing laser beams at lightning speed with the help of 'Light Strike Assault Striker' from Wow Wee. Though this game set comes with only 1 blaster, it has all the bells and whistles of a topnotch laser gun making it one of the best laser tag sets for home use. The Light Strike Assault reinforced with special sound effects and interactive lighting lures you to get ready for a sci-fi styled battle.
This is one action-packed and gripping assault weapon loaded with a range of useful features that encourages the player to engage in team battles or combat on a 1-vs-1 basis. The incorporated functionalities together with the add-ons enable the player to personalize the blaster in accordance with his playing convenience. There is a 'shield' function which when activated safeguards the player from mortal strikes triggered by opponents.
On the other hand, the player has unlimited ammo at his disposal that help him to launch deadly strikes and fight a battle valiantly.
FEATURES
1 piece of light strike assault laser blaster striker
Fight 1-to-1 or form up to 4 teams
Special sound effects
Interactive lighting action
Attachments and inbuilt features allows customization
Shielding function protects players from hits
Unlimited ammo stock
Extremely lightweight
PROS
Comes with attachments that enables the player to shoot in different modes
There's a knob that helps to adjust the lighting level allowing the striker to be used with efficiency out of doors
The striker has a good shooting range close to 100 ft
Even kids just 6 months old can learn to handle the striker
Though the maximum recommended playing age is 5 years even young adults and elder persons will find it entertaining to play with Light Strike
CONS
Playing outdoors in bright sunlight may not be enjoyable as the laser tag doesn't work effectively
The shield function takes inordinately long to get activated
The absence of a display screen that allows the player to see game statistics at a glance is acutely felt
Priced abnormally high much more than other comparable models
Conclusion
In this laser tag set reviews article a total of 10 topnotch and highly laser blasters were evaluated in terms of basic parameters or yardsticks. These factors include game play mechanics, shooting range, battery requirement, and so on. The laser tag sets of Legacy Toys, Laser X, Kidzlane, and Nerf (Hasbro) were found to be up to the mark as these models fulfilled most of the parameters.
If you're looking for a laser tag set that delivers on all fronts and yet is pocket-friendly opt for the 'Legacy Toys Laser Tag Set and Carrying Case for Kids Multiplayer 4 Pack' or the 'Laser X 88016 Two Player Gaming Set'. If sturdiness is your main concern, go for Kidzlane Laser Tag Game-set of 2 Laser Guns Indoor and Outdoor Activity. And if you want something with extraordinary features go for Lazer Tag Team Ops Deluxe 2-Player Systems from Hasbro.