Notice
: Trying to access array offset on value of type bool in
/var/www/html/bog/wp-content/plugins/wp-word-count/public/class-wpwc-public.php
on line
123
We reviewed 4 Best Survival Lighters for Backpackers
Introduction
One item that seasoned backpackers, mountaineers, and hikers will never forget to pack is the lighter. The survival lighter is perhaps the most important item that you can pack for a challenging trek to the rugged mountains or dense forest. Without it, you won't be able to light up a fire, boil water or cook a hasty meal while you're on the go. Go for a direct-flame lighter that is durable, refillable, water-resistant, and can be used easily.
Hikers, campers, and backpackers will find the Zippo Brushed Chrome Lighter supremely handy as it is refillable and works with any flammable fuel type. The lighter with a full metal finish packs in cotton ball which helps in igniting a fire when the logs become wet.
FEATURES
Durable metallic construction
Windproof design
Refillable
Runs on any type of combustible fuel
Adjustable wick
Thumbs free operation
PROS
Flame holds even when thumb is not pressing on the clip
Flame remains stable even in strong gusts of wind
Can be used smoothly for years on end: refillable
Adjustable wick allows monitoring of flame height
CONS
Fuel has to be bought separately (even during first time use)
The polish chrome finishing is not scratch free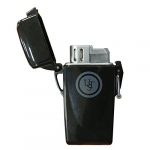 The Floating Lighter from Ultimate Survival Technologies uses piezoelectric ignition technology which means it'll emit a flame even if it is wet. Flame remains constant in wind speeds of up to 80mph and O-ringed sealing coupled with lock-in clasp makes it thoroughly waterproof.
FEATURES
Piezoelectric ignition technology
Ignites up to 30,000 times
Waterproof
Windproof
Lightweight: 2.2oz
Locking clasp with O-ring
Wire bail
Refillable
PROS
Lighter ignites even when underwater
Wire bail checks fuel evaporation
Intensity and height of flame is adjustable
Being refillable, it can be used for many years
CONS
Will run only on butane
May not in extremely cold climes
Fuel not supplied with lighter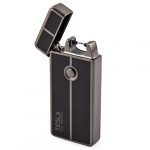 Hikers and trekkers will find the Tesla Coil Lighter extremely useful as it doesn't need any inflammable fuel for operation. Simply pressing the button gets the electric lighter going which is rechargeable and gets ignited up to 300 times on a single charge.
FEATURES
Hassle free ignition
Rechargeable
Electric arc flame
Rechargeable
Safety lock
Lightweight
Constructed from gun metal
PROS
Fuel-free operation
Quick charging via micro-USB
Flame does not flicker even in windy conditions
A single charge is good enough for 300 ignitions
Will not ignite in locked state
CONS
The lighter is not waterproof or even water resistant
Cannot be charged if you're in a remote location as you may not have access to a power plug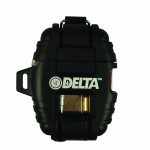 Mountaineers, campers, and trekkers will find the Windmill Delta Stormproof Lighter by UST indispensable as it emits a flame that does not waver even when the weather is stormy. The lighter is also waterproof and resistant to corrosion or impacts.
FEATURES
Piezoelectric ignition
Flame lights up 30,000 times
Outer covering is armored with Elastomer
O-ring sealing
Stainless steel wired closure
Weight: 2oz
Fuel storage capacity: 1g
PROS
Piezoelectric ignition means it'll ignite even when wet
The lighter is durable as it has been constructed from elastic polymer
Stainless steel wire closure prevents fuel evaporation
O-ring sealing makes it waterproof
CONS
The flame doesn't hold for long
Many customers have found the lighter to be defective
Conclusion
The market is chock-a-bloc with different brands of survival lighters and picking up 4 high-quality products was a difficult task. The lighter from Zippo was found to be the most versatile while the Floating Lighter from UST and Tesla Coil Lighter were handy enough. However, the Windmill Delta from UST was found to be just above par.