Notice
: Trying to access array offset on value of type bool in
/var/www/html/bog/wp-content/plugins/wp-word-count/public/class-wpwc-public.php
on line
123
We reviewed 4 Best Walking Poles for Hikers
Introduction
A pair of robust walking poles is as indispensable to a hiker as his trail shoes, insulation clothing, backpack, flashlight, and nutrition packs amongst other things. Walking poles offer stability, especially when tramping on rugged or steep paths and also relieve the strain on knees, ankles and hips considerably when going downhill.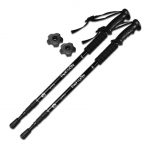 Mountaineers and hikers will find the Nordic Hiking, Trekking, Walking Trail poles from Life & Fit immensely handy as the telescoping shafts can be extended or collapsed as per one's convenience. Fabricated out of aviation grade aluminum, this walking pole pair is extremely hardy and highly resistant to impacts.
FEATURES
Made from '6 Series aviation aluminum material'
Eva foam handle grip with straps
Extendable up to a maximum of 135cm (53")
Collapsible to a minimum of 65cm (26")
Primary and secondary grips
Transposable tips
PROS
Telescoping poles furnish support and stability
Offers relief from muscle stiffness and joint pains
Antiskid mechanism prevents slips and falls
Shock absorbing systems reduces impacts
Helps improve momentum
CONS
Wrist straps are prone to coming undone
The handles made from hard plastic may not provide proper cushioning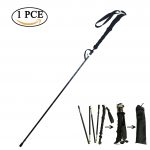 This FitLife Trekking Poles are extremely versatile as these are fully extensible and collapsible as well as long lasting. This pair can be used by children as well as adults as the ergonomically designed EVA foam handle along with wrist wrap allows for customized grip.
FEATURES
Pole with 5-section
Aviation grade aluminum and carbon fiber construction
Weight of each pole: 330g
Twist lock and pushbutton lock
Tungsten steel rod tip
Compressible length: 37cm
Extensible length: 115cm-135cm
PROS
Measuring scale for figuring out customized length
Two sections can be removed for shortening pole
Ultralight, durable, and compact
Convenient and fast assembling and dismantling
Modifiable tip for using on different terrains
CONS
Instruction manual is not provided
Becomes loose even after tightening the lower sections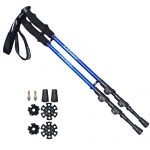 The trekking poles by LotFancy are surely one of the most performance oriented walking shaft pair that hikers can opt for. Crafted from aircraft grade aluminum with tungsten steel tip, these trail poles are hardwearing and lightweight and come with attachments for using on any terrain.
FEATURES
Durable construction
Tungsten tip resists wear and tear
EVA foam handle
Flexible wrist strap of nylon
Dual flip locks
Sticks have marked scales
2 tungsten steel tips, 2 mud caps, 2 snow caps, and 2 rubberized tips provided
PROS
Expansible and contractible
Tips and caps for hiking on different kinds of terrains
EVA foam handle permits comfortable grip
Wrist wrap on handle offers enhanced grip
CONS
The flip locks may sometimes not let the stick to be extended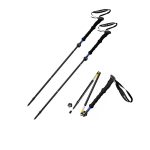 The trekking poles from Sterling Endurance will perfectly suit hikers and mountaineers whose height ranges from 4'6" -5'3". Constructed from pure 7075-T6 aluminum alloy, these trail poles last long and can be contracted down for sliding inside backpack.
FEATURES
Hardy construction
Fully extendable and collapsible
Foldable
Ultralight: each staff weighs 8.9 ounce
Eva foam handle
Adaptable strap
PROS
Supremely suitable for use by shorter people
Can be extended or contracted in a range of 35"-44"
Collapsible for packing convenience
Extremely lightweight: can be easily carried along
EVA foam handle furnishes good grip and absorbs sweat
CONS
Tall people might find the walking poles a tad inconvenient to use
Conclusion
Nothing can replace the convenience that walking poles offer when you are traipsing along a rugged or precipitous trail. The two different walking poles from FitLife and the ones from LotFancy and 'Sterling Endurance' whose prices ranged from $20-$50, were durable, lightweight, impact resistant, and telescoping.